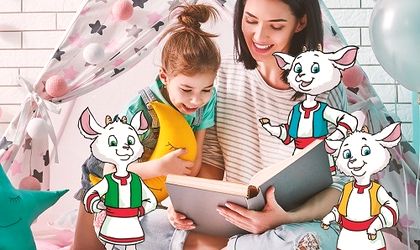 Between September 2020 and June 2021, the Foundation Tradiții Sănătoase has implemented a new edition of "Traista cu sănătate" program. Among the educational activities carried out within the project is the International Conference "Childhood obesity during the COVID-19 pandemic: The evolution of family habits". It takes place between 4 and 5 June 2021 and it is endorsed by the European Commission, with the aim of sharing good practices between international programs. The educational program "Traista cu sănătate" was rewarded as the winner of the 1st prize in the category "Healthy Lifestyle. Cities", within the EU Health Award, granted by the European Commission.
Prof. Univ. Dr. Veronica Mocanu, the initiator of "Traista cu sănătate" project, says: "Obesity is one of the worst public health challenge of the 21st century. Worldwide, 1.9 billion people are overweight, an issue that affects more people than malnutrition. Obesity and associated diseases are largely preventable if acted upon from childhood. Preventing childhood obesity is therefore a priority. In September 2020, over 4,000 children aged between 5 and 10 from Iași County enrolled in the optional subject "Traista cu sănătate". Because it is important not only what you eat, but also when you eat, we decided that the theme of the 2020-2021 campaign should be "Body rhythms – meal time". It was attended by 10,000 children, from over 50 schools in Iași and the surrounding countryside. This school year, 80 medical students, volunteers in the program, held 200 online lessons and taught students how important mealtimes are. We also conducted a study on eating habits, which was attended by over 2,000 students. We are happy to see that our program is so appreciated and we have good results every year".
Daily food intake, hunger, satiety are orchestrated by circadian rhythms. Researchers have found that in our body there are biological clocks that tell us when it's time to eat and rest, and they are found in our brain, heart, liver, pancreas and even the intestines. Circadian rhythms prepare and announce the body when it is time to feed and when it is time to take a break and rest. Rhythms control digestion, nutrient metabolism, hormones, appetite and physical activity. When our eating and sleeping rhythm is not aligned with the circadian rhythm, imbalances appear, which in time lead to metabolic disorders and obesity.
The activity of assessing the nutritional status aimed at measuring the weight, height and abdominal circumference. To the questionnaire regarding the habits and attitudes of life (rhythms of meals, sleep, physical activities, hygiene practices) 2,060 children from Iași county answered. The study shows that most children (66%) do not have a regular meal schedule, however the majority (85%) have lunch every day. Asked how many times a day they take a snack between meals, 46.6% answered twice a day, 25.3% once a day and 21.2% three times a day. Most children wash their hands before meals, and half of the children are not sure they can turn off the TV/ phone during the meal. More than half of the children were confident that they could help set the table and clean up after dinner.
The children, helped by their parents, performed the anthropometric measurements at home. The analysis of anthropometric data declared in 1,600 questionnaires from urban areas shows a prevalence of obesity of 12%, increasing compared to 2020, and in rural areas (400 questionnaires) a prevalence of 18% was observed, which is a worrying increase. The annual evolution of the prevalence of overweight in urban areas among evaluated children remained constant between 2017-2020, but in rural areas, the percentage of overweight children increased by 14% in 2020.
"At Nestlé, we constantly explore and aim to push the boundaries of what is possible with foods, beverages, and nutritional health solutions to enhance quality of life and contribute to a healthier future. Together with our partners we enable people to lead healthier, happier lives by inspiring people through impactful programmes and by continuously improving our products. For a healthy lifestyle, besides balanced nutrition, we emphasize the necessity of physical activity and sports in our daily program. In this regard, the partnership with the educational program "Traista cu sănătate" has been in line with our mission and we support its expansion at national level. We invite teachers and parents to be part of our programmes, so that educational materials and information could reach as many children in Romania as possible", says Leszek Wacirz, Country Manager, Nestlé Romania.
"Traista cu sănătate" program was launched in Iași in 2012. It is an educational program, dedicated to children and their families, which promotes a healthy lifestyle, respecting local traditions. It is internationally recognized, being included in the International Youth Health Community (YHC) network, along with programs from over 10 countries.
A.M. Filip