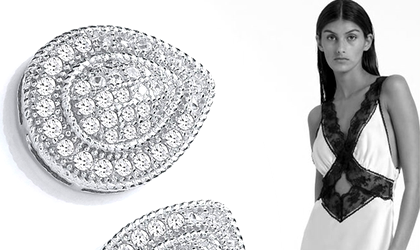 Are you looking for the perfect piece of jewellery for casual, business, or evening wear? It's not an easy task! But we have prepared a guide for you to help you choose the best option from the most popular and trendy stud earrings.
Fashion trends come and go, but this jewellery looks like a timeless classic. There is probably no jewellery that has so many designs. There really are many, and you're sure to find something of your own among the silver stud earrings from FJewellery. We've looked through the entire assortment, compared the trends that will be popular in 2023, and offered you the best options. Choose and use them in the creation of your images, and you are sure to attract admiring looks.
Please note that we offer you, the models, this year's fashionable silver. So, let's get started:
With a central gemstone. It can be a diamond, an inexpensive zirconia, a sapphire, a moissanite, or any other gemstone of your choice. But jewellery with a clear white mineral should be in your jewellery box. Such earrings are the best choice at all times. The shape of the facet can be anything: marquise, pear, heart-shaped, or emerald. On the one hand, they are completely inconspicuous and can be used every day, but on the other hand, they are the perfect example of elegant jewellery.
We like to dress like princesses. It sits very deep in us. To pamper your inner princess, look for an oval-shaped model. The entire plane should be studded with small, round-cut precious or semi-precious stones. Contrasting minerals can be contoured to the same hue and transparency, and only a metal ring may serve as a piece of jewellery.
Pearls are your best friend for the coming year. These earrings look great—delicate and elegant. This material is on trend in 2023, so if you don't have such jewellery, it's time to buy it. The price of these earrings will depend on the size and origin of the pearl.
Stars in the ears. They can be any shape or style, but they are always fashionable. Especially interesting earrings with multi colored stones, for example, sapphire or emerald in the centre and zirconium on the rays of the star. Compare several models and choose your own option.
Earrings in the shape of an eye. These look great and catch the eye. They can be single-coloured, but look very bright in a multicoloured design. The eye, according to Eastern customs, can help you in business or protect you from the evil eye. It is beautiful!
Ornaments of the original shape. It can be just a stripe, a circle, a triangle, or any other shape. It's original, stylish, and quite simple. Minimalism is in fashion this year, so you can afford this choice.
Nodules. Every year, it's timeless and appropriate for business attire. The prices are very nice for these prices, so you can pick up a few options with and without decor.
Logo. It can be a mini bunny: the logo of Playboy (the magazine is no longer published, but this sign will live on in our hearts forever), Chanel, or any other corporate-style logo. If you choose the right model, it can look original and beautiful. The main thing, in this case, is moderation, and stud earrings are a great format to be on trend.
Another must-have model is the medium. They can be worn by girls, adult women, and men. They are cute, neat and can look great in everyday looks. Just choose a few photo designs, compare them, and make your choice.
Stud earrings are very comfortable, and you definitely don't want to stop at one pair of jewellery. And rightly so. Browse through the FJewellery catalog and choose a few models.
They are worthy to be your companions at a party or a business event, at school or at work.