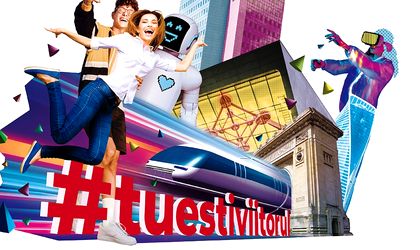 100 years from now, Romania will be kept in motion by people with vision, careers will be chosen based on genetics, the school will be at home, museums and theaters will be experienced with all the senses, partner compatibility and the duration of a relationship will be driven by personalized dating apps. These are just a few of the findings of a D & D Research perception study for BRD – Groupe Societe Generale.
The study was developed to explore Romanians' perceptions of how Romania will look at its next centenary and to discover trends in Romanians' thinking on progress. The approach was validated and interpreted by a think tank that includes people like Dan Petre – professor at SNSPA and D & D Research Partner, Razvan Rughinis – Innovation Labs Co-Founder and Constantin Vica – Lecturer at the University of Bucharest.
"From what we know, it is the first study that measured in a structured way the collective imagination of Romanians on the distant future – over 100 years. It is worth mentioning that it is a complex study that combined a projective approach (variants of response with very creative items) and measuring them in a very structured way. The study was carried out on a representative national urban sample, and its size allowed the analysis on the socio-historical regions of Romania. I was very happy to see that Romanians are looking at the distant future with much more trust and optimism they have for the near future. And it is expected that 100 years from now, Romania will have solved (almost) all of today's challenges through the creative solutions of its people," said Dan Petre, study coordinator and D & D Research partner.

"100 Years From Now is a project of past, present and future perspectives. Launched as part of BRD's New Year campaign, it began with the less-known story of war photographer Samoila Marza, the author of the only pictures from 1 December 1918. It seemed important to continue the project with a future perspective, to ask Romanians what ideas they had for the next hundred years. What will the world look like, where will we live, how will we learn, how will we love? We hope these answers will inspire and encourage new ideas to move the world," said Sabina Ştirb, brand communication manager at BRD.
The data was collected from October to November 2018, in two stages: a qualitative exploration that consisted of focus group discussions with experts and students working in robotics and specialists in socio-human sciences or technology, continuing with a quantified structured measurement on an urban sample of 2,289 people aged 18-55 in cities with more than 100,000 inhabitants.
Romanians' perceptions of how Romania will look 100 years from now have been explored in relation to the elements that define and fuel progress, economy and education, inter-human communication, including relationships, transport, health, leisure and visual arts.
Future trends
One of the main findings of the study shows that over 73 percent of Romanians consider people to be the country's central engine for development for the next 100 years, people with vision and boldness, those "doers" who will use the existing means to put ideas into practice and generate a better future. According to the study, 73 percent of respondents believe providential leaders can make progress with available resources, 21 percent think that money and wealth help progress, while only 5.8 percent think that perseverance and accumulated experience are sufficient to produce progress.
As for the future of education, 65.6 percent of Romanians believe that, in 100 years, children will know as early as in their second grade what profession they will have and will choose their jobs and careers at the age of 10, as most of the respondents expect a genetic conditioning of professions. 60 percent believe that schooling will be done at home through virtual courses and holograms, and 58.8 percent predict that the emphasis in school will be primarily on the skills of social cohabitation – the development of empathy and emotional intelligence.
More than 50 percent of respondents believe that the external environment will no longer be "friendly" due to climate change, so the desire to spend time outside the home will be considerably reduced. So 62 percent think that entertainment will go exclusively into homes where Romanians will sink into virtual reality, parks, games, concerts will become exclusively digital experiences, and outdoor outings will be available for a privileged class. However, only 40 percent think that theater, museum and cinema experience will disappear since they can be digitally stored, while most, over 60 percent, believe that art will not die but reinvent itself, and be experienced with all the senses through 5D and VR systems, even from home.
Innovation enthusiasts believe that technology integration in human relations, a "cyborgism" is inevitable. However, (only) 30 percent of Romanians can imagine the disappearance of a gadget. The main gadget that Romanians think will disappear is the most used today in everyday life: mobile phone / smartphone. It will be integrated into the human body by implanting chips or miniature devices.
For 73.7 percent of Romanians, communication with a robot in the future is preferable to the total lack of communication, which shows that any kind of interaction for Romanians is a basic aspect of preserving psychological health. For couples, the main trend is to gamble in future relationships, with 65 percent believing that matching partners and chances of longevity of the couple will be calculated by algorithms, social and personalized scores.
Concerning health and technology influence, 71.5 percent of respondents believe they will improve their body performances using artificial implants, 68.4 percent believe it will be possible to plan the traits of children through genetic conditioning, and 61 percent believe that minimum procedures will be adopted invasive with micro-robots. The study shows a tendency towards the direct adoption of new technologies that will propel us to the top of the top, not a gradual adoption, just as it did with the adoption of high-speed internet.
As far as the financial area is concerned, it is intended to maintain the role of money (to obtain benefits or resources to be used for a service that is currently provided). What is going to change is already a current trend, namely the digitization of the exchange currency with the role of increasing transaction transparency (73.9 percent). Risks attached to digitization can be controlled by blockchain technology.