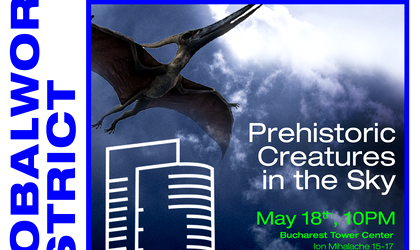 Prehistoric creatures "take over" the Globalworth District, the first art & tech "neighborhood" in Romania, in a video mapping show on one of the tallest buildings in the Capital city: Bucharest Tower Center in Victoriei Square.
The event is part of the Night of Museums circuit and on Saturday (May 18th) after 22:00, the building will reveal the fascinating prehistoric world with pterodactyls that will fly around the Bucharest Tower Center.
The show of the disappeared universe can be seen from different corners of Bucharest and near the building on Ion Mihalache Bld. no. 15 – 17. The video projection and concept of the "Prehistoric creatures in the sky" show are made by Aural Eye in partnership with One Night Gallery.
The event is part of Globalworth District, the first "neighborhood" in Romania dedicated to art and technology, officially launched by Globalworth in February 2019, alongside One Night Gallery. The project started from the desire to create new experiences for the community of over 100,000 people who come to Globalworth every day and at the same time invites all those who are passionate about another way of consuming culture by turning offices into unconventional spaces they find art and technology. Globalworth District aims to promote the young generation of Romanian artists and to bring cultural events closer to the community.
Globalworth District events are built around three pillars: music, visual arts and fashion design that can be experienced in a new way with emerging technologies. The visitor thus becomes more than a spectator, able to interact with art and discover it from a new perspective, as in virtual reality, augmented or video mapping.
Globalworth is a real estate company listed on the London Stock Exchange, which operates in Romania and Poland, where it has become the main investor in the real estate market in the two countries. In Poland, the company owns the majority stake in Globalworth Poland, an investor operating on the Polish real estate market. Globalworth develops and manages office buildings directly in the light industry / logistics sector, in premium locations, generating revenue from renting space to top companies around the world. Managed by nearly 200 professionals in Romania and Poland, the company's portfolio has a total value of approximately € 2.5 billion at 31 December 2019. More than 90% of it is income-producing assets leased to approximately 650 national companies and multinationals. More information can be found at http://www.globalworth.com/ and we invite you and follow us on Facebook, Instagram and LinkedIn.
One Night Gallery is the first new media art gallery in Romania that combines art and technology into a new ad-hoc exhibition concept, supporting young artists and Romanian designers by creating alternative artistic experiences, complemented by innovation and technology. Bridge between artists and technology, One Night Gallery has facilitated the creation of the most comprehensive virtual reality and augmented art platform, so far promoted in eight editions, three pop-up galleries and two collective exhibitions.
Aural Eye Studio works to enhance the world's magic through video mapping techniques, interactive installations, and various forms of digital exploration. Aural Eye creates interactive projections that are not only colorful and enjoyable to watch, but aim to provide a visual experience that makes it a new paradigm for the world – a lens that casts doubt on what's real and what does.