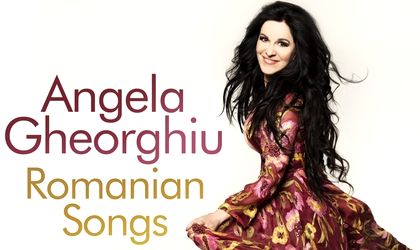 Romanian Soprano Angela Gheorghiu has released four famous Romanian songs, performed with the prestigious Royal Philharmonic Orchestra, conducted by Gavin Greenaway, Emmy Award-winning composer and pianist.
The songs are in digital format and are knows as "Sanie cu Zurgalai" ("Johnny tu n'est pas un ange"), "Barca pe valuri" ("Danube Waves"), "Ionel, Ionelule" and "Mai spune-mi ca nu m-ai uitat" ("Tell Me You Didn't Forget Me") which are available on iTunes, Amazon, Deezer and Spotify.
"The idea to record these songs came to me naturally, because I always listen to different styles of music, pop, jazz, folk music or rock and I love to explore them," says Angela Gheorghiu. "All four songs are very well known in Romania and I have been listening to them since I was a child."
"Sanie cu Zurgalai" was composed by Richard Stein and sung by Edith Piaf, in the French version – "Johnny tu n'est pas un ange". "In Romania it is sung more like a folk song, outside the country it is rather a jazz song", mentions the Romanian soprano.
"Barca pe valuri" is considered the most famous waltz in the world and everyone has come to assimilate it wrongly to the Viennese waltzes. In reality, it is a waltz composed by the Romanian Iosif Ion Ivanovici and was originally called "Danube Waves". 
In 1946, composer Saul Chaplin together with Eastern European singer and songwriter Al Jolson adapted the Romanian waltz and composed it as "Anniversary Song" for an American motion picture, which made the song famous worldwide, and later on covered by great stars of music like Bing Crosby, Frank Sinatra, Andy Williams, Anne Shelton and even Tom Jones.
"Ionel, Ionelule" composed by George Sbarcea, is a song performed in all musical forms in Romania and is extremely popular due to his comic lyrics. It was sung by singers, but also by great actors because it is not only a musical score, but also a theatrical one.
"Tell me that you didn't forget me" is composed by Gherase Dendrino, on lyrics by Puiu Maximilian, both creators being well known in Romania. Angela Gheorghiu's inspiration in choosing this special song came from the interpretation of the wonderful Doina Badea.
"All these songs are just the first ones I recorded with the Royal Philharmonic Orchestra and Gavin Greenaway, at the Air Studio in my beloved British metropolis, London," says Angela Gheorghiu. "Romania has an amazing melodic and rhythmic richness and that is why I have always considered that I must promote Romanian music all over the world. Being an opera singer, I had to find a stylistic and musical formula that was as suitable as possible for my voice, so I chose a jazzy style for these songs", adds the soprano. 
"One day, I was in New York for my performances at the Metropolitan Opera, and I met the Romanian jazz musician, Damian Drăghici. Asking his opinion about the four Romanian songs I intended to record, Damian offered to contact American musicians, who would orchestrate them, which is why I thank them all, from the bottom of my heart," explains Angela Gheorghiu.
Thus, "Sanie cu zurgalai" was orchestrated by Jorge Calandrelli, "Tell me that you haven't forgotten me" by Oscar Castro Neves, "Barca pe valuri" and "Ionel, Ionelule" by Chris Boardman.
"In my career I have tried to prove that any style of music has an extraordinary quality if the music is well done, and that classical musicians can approach and perform successfully pop, jazz or rock music. These recordings are just the beginning, in my desire to offer the audience more dreamy moments, a state of well-being, sometimes a little melancholy, but especially optimism and joy in these turbulent times, when we need good music. I will continue my searches in the vast Romanian and international repertoire that I have not yet explored vocally. I hope I could share my joy with you because we need music, we need art in our lives," concludes Angela Gheorghiu.
Moreover, Angela Gheorghiu was recently announced as part of The Royal Opera House highlights of its first full Season since 2019, presenting "Tosca". The institution's programme features 11 new productions, including five world premieres and an exciting roster of UK and international talent with many debuts.
Romanian soprano Angela Gheorghiu made her Royal Opera debut in 1992 singing Mimì (La bohème). She shot to international fame in 1994 when she sang Violetta Valéry (La traviata) under Georg Solti for The Royal Opera. Her roles since for The Royal Opera have included Liù (Turandot), Micaëla (Carmen), Adina (L'elisir d'amore), Juliette (Roméo et Juliette), Antonia (Les Contes d'Hoffmann), Magda (La rondine), Nedda (Pagliacci), Amelia Grimaldi (Simon Boccanegra), Marguerite (Faust), Tosca and Adriana Lecouvreur. In the 2018/19 Season she returns to sing Tosca.
Gheorghiu was born in Adjud. She began singing at an early age and trained with Mia Barbu in Bucharest. She sings regularly for the world's leading opera houses, including the Metropolitan Opera, New York, La Scala, Milan, Vienna State Opera, Liceu, Barcelona, and Paris Opéra, and in many concert performances worldwide. Her appearances in film include singing the title role in Benoît Jacquot's Tosca, and Juliette (Roméo et Juliette).
Gheorghiu has recorded with EMI (now Warner) and DECCA. Her recent recordings include CDs of Verdi and Puccini arias and of Madama Butterfly (conducted by Antonio Pappano), four recent releases from Warner Classics including a 25th anniversary boxed set, the complete recitals and an album of verismo arias, and DVDs of Tosca, Adriana Lecouvreur and Faust with The Royal Opera.
Photo courtesy of Angela Gheorghiu's Facebook page