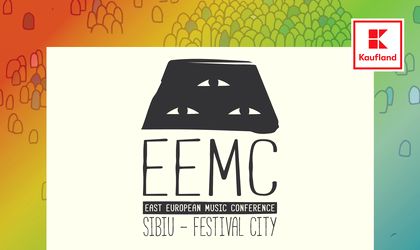 In a Europe still affected by the Covid-19 pandemic, with a cultural industry in standby, heavily impacted by unpredictability, professionals working in events and in the cultural industry feel an urgent need of defined support measures, of discussions aimed to shaping real solutions and of professional know-how infusion and practical advice meant to help them pass through these unprecedented times and see possible future steps for functioning in the "new normal".
To support them, on 10th and 11th of December 2021, the East European Music Conference online camp's guests will discuss about the most stringent music industry issues, sharing their expertise and answering to music professionals' and cultural operators' questions during a series of interactive panels which will be broadcasted online, for free, on eemusic.ro and on the East European Music Conference Facebook page.
The online edition will include 8 discussion panels with European and Romanian experts, 13 interviews with icons of the international music industry, like Tuomas Holopainen (composer and founder of Nightwish band) or Ed Bicknell (Dire Straits manager and Managing Director at DAMAGE MGMT) and music shows which will bring even more energy and rhythm to these debates on the hottest current topics.
The list of top professionals who will share their expertise with the online audience include Greg Parmley (Director International Live Music Conference & International Festival Forum, UK), Achim Ostertag (Founder of Summer Breeze Open Air festival, DE), Henrik Bondo Nielsen (Roskilde Festival, DK), Jouni Markkanen (Tuska festival, FI), Prof. Chris Kemp (CEO of Mind over Matter, UK) and many others.
They will be joined by officials from Romanian authorities and local cultural and events industry like: Alexandra-Maria Rigler (Director of Centre for Projects from Timisoara), Radu Burnete (Executive Director, CONCORDIA Confederation),  Bogdan Ștefan Trîmbaciu (Director of the Project Management Unit – Ministry of Culture), Andi Mitroi (Cofounder of Summer Well Festival), Alin Vaida (Manager "Jazz in The Park" festival and Executive Director at FAPTE), Iulia Popovici (performing arts critic and curator), members of Romanian festivals, officials from Bucharest and Cluj Mayoralties and theater and cultural managers.
During the two full days of debates, experts will discuss on topics like "The cultural future of Europe" still under Covid-19 pandemic's mark, about the national "Recovery and resilience plans" which EU member countries submitted for approval and how do the UE member countries elaborate a successful long term cultural strategy valid in the post – pandemic context, about "European financing sources for the cultural industry", about "The "normal" and the "new normal" in the international events" (about characteristics, communities, about how do event bookers find artists/ music products fit for their specific events, about sustainable cultural strategies for festivals or for other cultural products) or about the new measures, norms, event production and crowd management models generated/ enforced by the post-pandemic context.
The conference schedule and speakers list can be accessed on eemusic.ro, in the following weeks additional speakers and discussion topics will be included.
The live transmission of the online event will take place on 10th and 11th of December 2021 on eemusic.ro and on the East European Music Conference Facebook page, with free access.
East European Music Conference online camp 2021 is a project designed to support and enhance the professional development of persons working in the events and cultural industries, initiative co-financed by Sibiu Mayoralty and supported by Kaufland Romania.
East European Music Conference (EEMC) is the first local international conference dedicated to professionals in the music industry was designed as a meeting and talking point of the Romanian musical industry and cultural workers with some of the best experts in the field. EEMC is the place where artists, managers, producers and cultural workers in Romania have the opportunity to meet and start new collaborations with the special guests of the conference.
Reaching its fourth edition, East European Music Conference (EEMC), which this year will have an online version, is the first program in the entrepreneurial area that assumes as its mission to maintain a healthy debate between all parties involved in the Romanian music events and cultural industry, starting with representatives of the private sector (event organizers, international experts) to Romanian authorities directly involved in the decision making and shaping the legal framework of these industries.
In the context of a market in a continuous development process in the last couple of years before the pandemic, the local promoters are still conducting business in a confused environment, with an outdated legislation, that does not include specific provisions for the concert and festival industry, therefore the existence of a communication platform that facilitates the direct contact and punctual troubleshooting is necessary. During each edition, local organizers look for solutions in an experience exchange with local and international promoters since there can be no rapid or healthy changes in the local market without significant change to the existing Romanian legal framework, without changes in laws as result of healthy debates. Therefore, the mission EEMC has taken on long term is to support the evolution of the local live event sector and alignment with the European industry standard on festivals and concerts.
East European Music Conference is organized in collaboration with AROC, the Romanian Association of Concerts and Cultural Events Organizers, association that features as founding members some of the most important promoters in Romania: ARTmania – ARTmania Festival Sibiu/ Blaj aLive, 3 Smoked Olives Festival, Cyclic, Comparty Events – diMANSIONS Hit Music Festival, Electric Castle, Emagic Live – Awake Festival, Expirat, Fapte – Jazz in the Park, Flow Concept, Global Records, Le Bistrot Sociale, Le Petit Festival de Bucharest, Mozaic Jazz Festival, Movement Team – Sports Festival, NEVERSEA, Nuit Sociale, Centrul Cultural Plai – Plai Festival/ JazzTM, Scala Events, Smida Jazz Festival, SNRS – Sunwaves Festival, Sprint Media, Summer Well, TIFF – Asociația Festivalul de Film Transilvania, The Institute, Showberry – Rocanotherworld/ Classix Festival, The Mission/Fall in Love Festival, UNTOLD, VRTW, Wine and Street Food Festival, Why Not Us – Street Food Festival, Wise Factor – The Fresh.