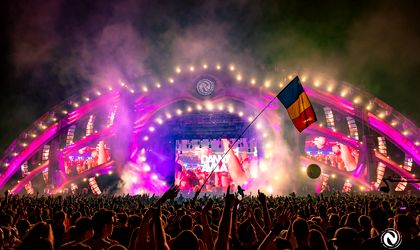 Neversea and TOKHIT have joined forces to create a Crypto-Friendly festival. Content creators, artists and fans who support the project will be able to be rewarded with cryptocurrency prizes for investing in TOKHIT tokens during the festival.
TOKHIT is the first Social Networking Game in Romania, i.e. a social network based on Gaming principles, offering rewards to users for the content they create. The TOKHIT app is soon to be launched in Alpha version, which is why the company wants to reward Neversea fans who want to support the project and discover the opportunities to monetize the content they will enjoy in this app.
The Neversea and TOKHIT partnership came naturally, given that the Neversea audience is a young one, passionate about this cryptocurrency field, and the festival experience offers many content creation opportunities for artists, influencers or fans. Hundreds of hours of fun, unique shows, splendid sunrises by the sea or the fairytale design of Neversea beach – all can be an inspiration for fans who come to have fun for 4 days on the Island of Dreams.
Neversea and TOKHIT will provide fans with several creative zones to inspire artists and content creators, giving them a preview of the upcoming experience. All fans who invest in TOKHIT tokens during the festival will receive double the amount of tokens in their virtual wallet from the company. These tokens can then be used in the future TOKHIT app.
TOKHIT is an innovation in how content creators can be rewarded in real time for what they post. The platform is dedicated to visual artists, musicians, actors, athletes or photographers. TOKHIT already has 7,000 users on its waiting lists and an international community of 70,000 members.
CRYPTOCURRENCY MARKET IN ROMANIA
Cryptocurrency holdings in Romania have increased by 316% in the last 3 years. The latest research by Ipsos in 2022 regarding the cryptocurrency market in Romania shows that 96% of Romanians with an internet connection have heard of cryptocurrencies and 4 out of 10 Romanians own or have owned digital coins. 84% of them want to buy digital coins in the future. 65% believe that digital assets are the future of payment. In the case of NFTs, 1 in 2 Romanians understand their use and 1 in 5 own such digital assets.
WHAT ARTISTS ARE YOU SEEING THIS SUMMER AT NEVERSEA
Neversea is Europe's largest music festival held on a beach. Now in its fourth year, Neversea 2022 brings over 150 Romanian and international artists to Constanta from 7-10 July. Artists such as Black Eyed Peas, Dimitri Vegas & Like Mike, TYGA, Alan Walker, Don Diablo, Alesso, Steve Aoki, Timmy Trumpet, Ummet Ozcan, Tujamo, Claptone, Nicky Romero, Nervo, Quintino, Parov Stelar and many more will take to the stages of Neversea 2022.