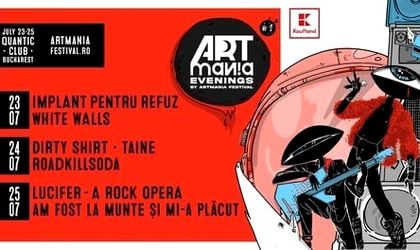 Since nothing can compete with a feeling of closeness and human connection brought by live music, during the weekend of July 23 -25, rock music fans are invited to enjoy a festival atmosphere, with alternative events and the energy offered by some of the best know Romanian bands at the ARTmania Evenings powered by ARTmania Festival.
By Romanita Oprea
The event will take place at Quantic Club, will be adapted to current conditions regarding safety and hygiene and it's taking place due to the desire to offer support to the artists and recreate, as much as possible in mentioned conditions, the festival ambience which has been part of the ARTmania fan experience for the last 15 years.
Full passes are already available at artmaniafestival.ro for 150 lei for all three festival days, limited at 300 pieces
Those who wish to take part in just one of the event days can buy day tickets for 70 lei each, also available at artmaniafestival.ro, limited at 200 tickets per day.
Along the three ARTmania Evenings days the fans will meet well known Romanian rock bands (a-z): Am Fost La Munte Si Mi-a Placut, Dirty Shirt, Implant pentru Refuz, Lucifer – A Rock Opera, RoadkillSoda, Taine and White Walls.
DAYLY SCHEDULE "ARTMANIA EVENINGS":
23rd of July: Implant pentru Refuz, White Walls
24th of July: Dirty Shirt, Taine, RoadkillSoda
25th of July: Lucifer – A Rock Opera, Am Fost La Munte Si Mi-a Placut
Alternative activities just like in the good days
Alongside the concerts, a series of alternative events will offer fans the possibility of spending quality time between of before the concerts.
Fans who are interested in completing their personal collections can visit the ARTmania shop, where they will find merchandise for all the bands present and collections by ARTmania.
Full details about available alternative events during the ARTmania Evenings will be coming soon in a separate announcement.
The rules are valid until the conditions are modified by local authorities, modifications that can occur until the time of the event and will be reflected as such.