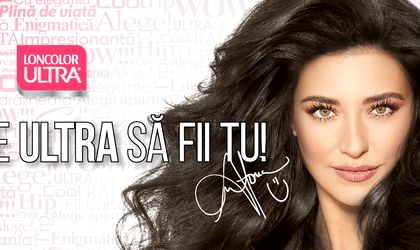 Loncolor, Romanian brand and market leader in the hair coloring category, has been preparing for more than a year a large rebranding project for its most popular range in the portfolio: LONCOLOR ULTRA. Therefore, all the 35 existing shades are relaunched under a new packaging, more attractive and airy, with for 5 new shades. One of the new ones was especially created for the singer Antonia, the new brand ambassador for the next 3 years.
By Romanita Oprea
"Either you are cool, hip, atypical, enigmatic, ultra-dramatical, full of life, elegant, impressive, radiant, dominant or even extravagant, you can choose from one of the 40 Loncolor Ultra shades the one that will highlight you the best, the one that inspires you to be you, says Antonia.
Marius Niță, Marketing and Sales Director for Loncolor, said:
"The association with Antonia – the ambassador for the Ultra range came absolutely natural, because as she is a true leader in the artistic world, loved by Romanians, Loncolor Ultra is the market leader for the hair coloring products, loved by the loyal consumers for over 30 years now. This motivated us to create a shade dedicated to Antonia and to act as true leaders that bring a new breath on the market. The new packaging is inspired by our consumers that trust us, that know that the beauty of their hair highlights them as real stars".