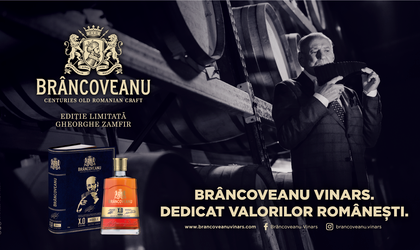 "At my age and in my life experience, I tasted various extraordinary drinks. Some have remained memorable, and this product, released in a limited edition, has the potential to become memorable, by refinement and distinction," says Maestro Gheorghe Zamfir about the Brâncoveanu X.O. Limited Edition.
The truly exceptional things stand the test of time, as does the limited edition Brâncoveanu X.O., matured for a long time in oak barrels. How has your career time tested? What defining decisions brought you here today, in the full maturity stage?
Maestro Gheorghe Zamfir: We begin our life path with an inexplicable desire to do exceptional things. This is how a successful journey begins, by desire. Then we dedicate, perfect and refine ourselves. Without going through these stages, nobody becomes an exceptional person, nobody reaches that state of grace that many dream of. I am now reaping the benefits of this conduct in my career as a musician. My effort was successful at every step. Sometimes it can be overwhelming, but the resources to manage success are always inside, in the heart.
In the past years, while you were delighting the audience on the big stages of the world, we began the maturation process of this limited edition Brâncoveanu X.O. How important was your preparation for becoming a maestro today?
Maestro Gheorghe Zamfir: The preparation process is essential. If you have a good start, the right teachers, and a mountain of will, the base is assured. From here to glory there is a lot of work, a lot of determination, openness to everything that comes to you and a touch of talent. The chosen ones are different. They have that something that makes us say about them that they are born to excel in a certain field. But many are lost along the way because they do not respect the conduct of a champion. Talent alone is not enough. Work alone is not enough. Willpower alone is not enough. But the formula of the three leads to full success.
Brâncoveanu Vinars is a noble product, which must be understood before being consumed. What memories do you have of its unmistakable aroma and complexity?
Maestro Gheorghe Zamfir:  To understand you need knowledge. At my age and in my life experience, around the world, I tasted and tested various extraordinary drinks. Some, of course, remained memorable. I think this product has a chance to become memorable, through refinement and distinction.
In order to emphasize the current expression of the values ​​deeply rooted in the history of this brand, the special edition Brâncoveanu X.O. is, without a doubt, a tribute to the nobility of your character, with a landmark role in the Romanian society. What do you think about the chosen visual identity, which strengthens the premium image of this brandy?
Maestro Gheorghe Zamfir: Thank you for the tribute idea! I feel celebrated and I can only enjoy this association. Specialists can talk about visual identity. From my point of view, the idea corresponds to the style that characterizes me and the exceptional level of a collector's item. It will undoubtably be received with great success by consumers and collectors of Premium Products.
How do you see, in terms of common points, your connection with Brâncoveanu X.O. and with the team that worked with passion and dedication to create a fine brandy for lovers of fine drinks?
Maestro Gheorghe Zamfir: I have a predilection for quality and good taste, but this is already known. In an age where quantity overshadows quality, we have remained true to quality, which has brought us together in this project. I welcome the initiative of the team that made this beautiful collaboration possible.
You are the representative of the Romanian culture and music, the undisputed master of the panpipes, like the ruler Constantin Brâncoveanu, a symbol of the development of the Romanian culture and in whose honour the Brâncoveanu brandy was created. What fuels your energy to reinvent yourself and keeps you at the forefront of the art of music?
Maestro Gheorghe Zamfir: The resemblance to the ruler Constantin Brâncoveanu honours me, but I do not dare to embrace with the thought such a resemblance. All my life I have been animated by perseverance. I evoked the joy of being Romanian and showed the world the national cultural richness, at the highest musical standards. All this without figuring out where I might end up in my career. I have enjoyed the love of people all over the planet and still do, with the first thought. Sometimes I take something new, unheard of, out of my panpipes, like a magician's hat. This fascinates the audience, who leaves with these memorable moments in their souls. I think I have just revealed a secret to young aspirants.
You are the equivalent of the panpipes around the world, a symbol of this instrument that you have developed and refined. How do you see its evolution in the future as a means and a way to create art?
Maestro Gheorghe Zamfir: This instrument, so simple in appearance but so vast in expression, has huge potential. I saw this potential in my music school and it made me want to reveal the facets of the whole world to it. We developed and innovated it to include all musical genres and this pure, clean, unaltered sound to reach the ears of people everywhere, as a gift, as a blessing, as a therapy, which has proven over time. This is my immense satisfaction and without false modesty I tell you that I feel like a parent for this instrument. That is why it is obvious that the human being has become the instrument itself, although the instrument created who I am today.
What does an ordinary day in your life look like now, and how much time do you spend playing the panpipes?
Maestro Gheorghe Zamfir: Poate vă imaginați ceva ieșit din comun, dar eu sunt un om normal. Așa îmi place să cred. Fac zilnic exerciții fizice, studiez la nai între 4 și 6 ore pe zi, pictez și compun, pe lângă grija pentru animăluțe. Scriu memorii, citesc enorm și țin și lecții de nai cu studenții mei. Când revizuiesc fraza precedentă, parcă nu-mi mai pare atât de firesc pentru o persoană de vârsta mea. Dar eu așa am trăit mereu, nu pot schimba nimic și nici nu vreau să schimb ceva, cât Dumnezeu îmi va îngădui, și-i mulțumesc din suflet în fiecare zi a vieții mele. Da, găsesc timp și pentru asta, mai ales pentru asta.
Maybe you're imagining something out of the ordinary, but I'm a normal person. I like to think so. I exercise daily, study for 4 to 6 hours a day, paint and compose, in addition to caring for my pets. I write memoirs, read a lot and teach panpipe lessons to my students. When I review the previous sentence, this schedule doesn't seem so natural for a person of my age. But I have always lived like this, I can't change anything and I don't want to change anything, as much as God will allow me, and I thank him from the bottom of my heart every day of my life. Yes, I find time to do this as well, especially to do this.
How do you see the future of the panpipes in Romania and how do you see it worldwide?
Maestro Gheorghe Zamfir: Naiul nu poate fi decât pe un drum ascendent pentru că el este descoperit de fiecare nouă generație, iar cât lumea va exista și naiul va fi un bun companion oamenilor.
The panpipes can only be on an ascending path because this instrument is discovered by each new generation, and as long as the world exists the panpipes will be a good companion to the people.
We created a nursery of extremely talented and studious children, from various corners of the world, many years ago, who today have become world-class teachers. They carry on my method and reveal the universe hidden in this instrument to the new generations. They organize festivals dedicated to this instrument, they run cultural institutions, they are called as guest teachers from Europe to Japan, from South America to China. I'm very proud of them. They are my real heritage.
Speaking of China,  I found there an exceptional leap and a special call for this instrument. The music institutions in this country had the idea of ​​opening panpipe chairs at every conservatory, which I find fantastic. The panpipes have a great future and that can only make me happy and fulfilled because I also contributed to this leap in time.
What personal projects do you have for the future, and how is your concept evolving – the National Panpipes School?
Maestro Gheorghe Zamfir: In Cluj, on the occasion of the UNTOLD Festival, I made public my dream of leaving my entire work to the world for study and to erect a cultural edifice, a sanctuary dedicated to universal music, an Academy dedicated to the panpipes.
Gheorghe Zamfir International Panpipes Academy aims to be a world hub for music studies that will bring Romania universal recognition for quality music, for the exceptional teachers who will teach here. I hope to find the necessary support in the state institutions and even private institutions to be able to bring the dream to reality.
Which concert do you remember with the greatest pleasure?
Maestro Gheorghe Zamfir: When you are honoured, in your country, in front of tens of thousands of people, in the main open location in Bucharest, the Constitution Square and you can show the world all the plethora of musicians from all over the world, which you have formed and inspired, each with his own moment of virtuosity, I think it is the most important moment of your career as an artist and it remains imprinted in your soul forever. And yet the applauses of the first years of my career, from the grand Olympia hall in Paris, have a special nostalgic scent.
Do you have a place in mind where you would have liked to perform, but haven't had the chance yet?
Maestro Gheorghe Zamfir: I went wherever I was invited, where I was wanted and where people resonated with my music. From country celebrations, to the royal houses of the world, from the Vatican to Carnegie Hall and the Cairo Opera House or from Sydney to the Olympia Hall in Paris, in a career of over 65 years on the world stages, all the moments were properly valued. I don't have a specific place where I would have especially wanted to perform and hadn't been there before.
What is your composition that surprised you the most, from the first moment of creation, to the last note placed on the notebook?
Maestro Gheorghe Zamfir: Each composition is a real surprise to me. I'm just a tool, they come to my mind from somewhere, I don't know where and I just put them on my stave. The most frantic and real trance of my compositions is Doina de Jale. Composed in the early years of my career, Doina de Jale has an exceptional emotional charge. I tremble every time I play it and discover new ancestral values. There is no concert that does not bring tears to my eyes when I perform this work. It has a special depth.
How do you think the perception of the new generation of art in general and music in particular is changing?
Maestro Gheorghe Zamfir: Every generation has its revolution, it has its aspirations. We were also young and what we were proposing then seemed extravagant and inconceivable for those times. But if what you do, you do with passion and for the common good, that thing will last regardless of time and fashion. Young people have a special candor, typical of their age, and they should not be blamed for the tastes they have at a certain point in life. My presence at UNTOLD, a festival dedicated to young people, mainly did not intimidate me at all, on the contrary. I found an extraordinary energy and the sound of the panpipes was received with respect and joy by all those present. That says a lot about the musical tastes of the new generation.
What are the main values ​​that define you, both in your personal and professional life?
Maestro Gheorghe Zamfir: I am an old-fashioned man, or rather, a classic par excellence. The classic never goes out of style, the classic is the essence, the rest are variations on different themes. I firmly believe in the traditional family, in the good God who guided my steps through life and I still believe in work. I don't think you can be happy without work. There is no greater happiness than to have achieved something great, like a champion. Fighting for a goal gives meaning to life. If many are not happy, it is because they have not yet discovered these things in life. I was not particularly educated in this regard, my parents were simple people, I was educated myself and overcame my limits, and God rewarded me for my work and passion.