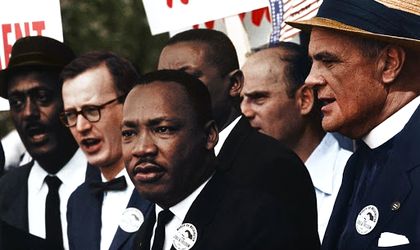 We are lucky to live in a time where many huge change-makers are inspired by still alive people. Although history milestones like the Hebrew king Jesus, Islam founder Muhammed, great physicist Isaac Newton, and famous poet and writer William Shakespeare all exist, this post will be tunnel focused on those who lived at least from when our grandparents were alive. So who are these people that have made a big impact in our world today in the past hundred years? Let's find out.
Here is a list of 5 people that surely left and are still making their mark on the world as we know it. 
Martin Luther King Jr. (January 15, 1929 – April 4, 1968)
One of the most influential figures of our century, Martin Luther King, was a baptist member who campaigned against black people's unfair treatment and segregation in the Southern states of the United States of America. This African American Black rights activist cited Gandhi as a major influence in his life choices, reflecting his tendency to opt for a peaceful protest over more aggressive means.
Known for his "I have a dream" speech, King won the Nobel Peace Prize in 1964 for his exploits but was sadly assassinated in 1968. However, he will be remembered forever for his passive, dignified resistance to an unjust society and staunch defense of the black sector of the US populace.
Adolf Hitler (April 20, 1889 – April 30, 1945)
A usual in every list of most deadly people to walk the earth, Adolf Hitler was the leader of the German nation for over ten years spanning from 1933-1945. During this time, the white supremacist led the world into one of the most devastating wars in recent history, dividing the world powers into the 'Allies' and 'Axis' powers. 
His hatred for Jewish people and a desire for a blond-haired, blue-eyed master race led to the genocide of 6 million people, most of who died in Eastern European concentration camps. The death toll from the war still incomplete records up to 75 million deaths, including 20 million military personnel deaths and 40 million civilian deaths, gruesome indeed.
Nelson Mandela (July 18, 1918 – December 5, 2013)
Another Black rights activist on the list, Nelson Mandela, was a South African native who dedicated his life to fighting against apartheid. This policy kept white and black South Africans separated and denied the black citizens their rights to vote. Nelson was imprisoned in 1964 for his staunch and aggressive stance against the racist government of South Africa during this time and was held for 26 years for his exploits. 
However, after much pressure from outside forces and massive citizens' riots and protests, he was finally released in 1990 and voted president of the African National Congress. He also won the Nobel Peace Prize in 1993 for his fight against apartheid and sacrifices made to see his vision come true, a real superhero.
The remainder of this list consists of still alive people and making an impact in our world today, including two of the world's richest men. They are;
Vitalik Buterin 
The rate at which technology is advancing cannot easily be quantified or calculated, but some people have made great strides in making several processes much easier; Vitalik Buterin, the man who created Ethereum, is one of them. This blockchain platform currently functions as a world computer for decentralized applications, and its cryptocurrency, ether, is presently worth $30 billion. However, this protocol is only surpassed by the stalwart, Bitcoin, and at such a young age, it is clear that this is only the beginning for Vitalik. 
Elon Musk
Founder of the futuristic project-Tesla, Elon is an entrepreneur who has upended several areas of industry and always keeps the business world curious as to what he plans next. The South African-born environmentalist and visionary is well known for his space exploration company SpaceX which has boosted the possibility of commercial space travel.
His designs include a reusable rocket, an all-electric cyber track, and an underground "Loop" system that could transport passengers and vehicles at speeds of up to 150 mph, reducing traffic congestion and air pollution. 
Some so many individuals aren't on the list but have managed to impact this world by their actions and, more importantly, selfless service to mankind, including Bill Gates, Albert Einstein, Mahatma Gandhi, and Jeff Bezos. Some of these people deserve our praise and recognition as their exploits will live long after we're all gone and will continue to serve the people. So here's a thumbs up to them.