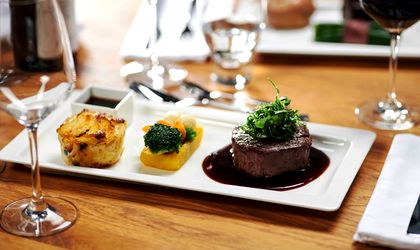 Miele presented at IFA Berlin the MChef Startup which has developed the first home delivery service for gourmet meals.
MChef home delivers menus that may include Salmon tartar, marinated shrimp and a side salad, followed by Hereford beef, au gratin potatoes and vegetable strips, and a tiramisu pyramid and ragout of berries as the desert. Maybe not a menu for a luxury restaurant, but a selection of over 16 dishes, including vegetarian, vegan and children's specialties.
The new Miele gourmet service, developed through the MChef startup, is designed for customers who want to have the premium restaurant experience in the comfort of their own homes. Specifically, Miele customers who own a Dialog oven, which was launched last year, can order the meals they want online, and they will be delivered by a special catering service the next day.
20 minutes average cooking time
All the ingredients will be ready to be placed into the oven, and the average cooking time is 20 minutes. Additionally, there is no risk of making mistakes because it is enough to place platters in the oven and the baking program is started directly from the MChef mobile app, which includes the perfect settings for each ingredient. Thus, customers will be able to choose either distinct dishes or complete menus consisting of three dishes. Up to 6 different menus can be cooked simultaneously, and on request they can be accompanied by the right wine or a bottle of champagne.
The mode of transport will meet special criteria, the containers will be able to accommodate up to 8 menus, champagne and wine, in four different climate zones, ranging from -18 to +18 degrees Celsius. The food is kept fresh for up to 24 hours, and once the recipes are opened, the meals can be stored at the right temperature for 5 days.
"With this business model, MChef adds a new dimension to service and satisfaction, but at the same time it emphasizes the power of innovation behind Miele, a brand that goes beyond the barriers of classic business areas," says Axel Kniehl, executive director manager and Sales of Miele Group.
The new gourmet service will be launched this autumn as a pilot project in the Land of North Rhine-Westphalia and will then expand all over Germany.