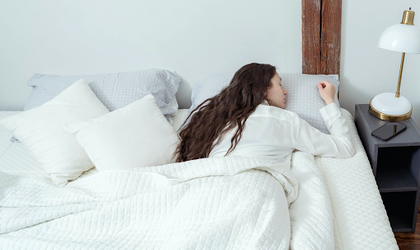 Ever struggled for hours in bed only to find yourself waking up tired? You are not alone. According to a survey, around 70% of adults face difficulties with sleeping.
No matter how hard you try, the frustration of having poor sleep can be overwhelming at times. But, instead of giving up, try to find ways of getting better sleep without snoring aids or prescription medication. Here are 4 simple but effective ways that help me get better sleep.
Change your mattress
A good night's sleep starts with a comfortable mattress.  A worn-out or poor-quality mattress can wreak havoc on your health and well-being by causing back, neck, and joint pains. If you haven't changed your mattress in the past 5 years, it is high time you did so. If you still have your old spring coil mattress, folks at the U.S. mattress company City Mattress recommend replacing it with a memory foam one which gives me better support and comfort to help you get better sleep every night. Your new mattress should be firm yet flexible enough to relieve pressure on your muscles and joints. Having cooling properties and an antimicrobial treatment are other qualities you want to look for in your mattress to make your sleep comfortable and rejuvenating.
Turn off electronics
It's no secret that television hurts sleep quality. Watching TV before bed stimulates brain waves and keeps you active at a time when you should be resting. However, modern TVs are not the only electronic gadgets that interfere with our sleeping patterns. Laptops, tablets, and phones with their bright blue light screens and jazzy notifications can also make it difficult for us to sleep.  It's best to avoid looking at any electronic equipment and instead try reading a book or meditating before going to bed. 
Get enough natural light and some fresh air
Get enough natural light during the day. Remember that our ancestors used sunlight as their alarm clock and it has great benefits on your brain functions and moods. If possible, take a lunch break outside so you will be able to get some fresh air and recharge your energy levels.
Another great way to get better sleep is to take a walk or go jogging outside. Fresh air does good for the body and gets you ready for a sounder night's sleep. Also, regular exercise helps improve the quality of deep sleep and it reduces the time taken to fall asleep by almost half. Exercising at least three hours before bedtime can help you get better sleep in the long run.
Create a relaxing pre-sleep routine
Take a hot bath or shower before bedtime because it relaxes your muscles and unwinds your body. Also, don't forget to turn off all electronics at least one hour before sleeping so you can enjoy peace and calmness when envisioning yourself sleeping deeply for 8 hours!
Also, make sure that the temperature in your bedroom is comfortable enough for you because being too cold or hot can keep you awake for much longer than usual. A good range of temperature should be between 60 and 67 degrees Fahrenheit. Make these preparations into a routine to help you transition from wakefulness to sleep easier.
All in all, if we want to improve our sleep schedule we have to work at it every day. We can also change materials related to our sleep such as our mattresses. With these tips, any person is able to do so without spending a lot of money on snoring aids or oral appliances. So go ahead and get that quality sleep. You'll be thankful for the amazing health rewards it will bring.