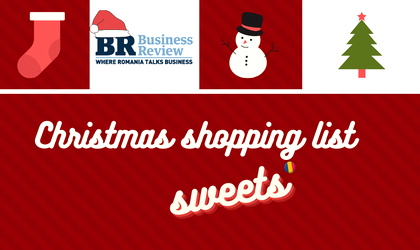 With some cities in lockdown and a pandemic crisis in place, with the number of cases increasing every day, Christmas Shopping List will be a bit of a challenge for everyone. Up until now, small gatherings are still permitted, so maybe you should plan this vacation for family only. But Santa will find everyone, so Business Review made a list of shopping ideas for the loved ones.
This year's list will focus entirely to Romanian entrepreneurs and Romanian businesses in order to sustain small businesses. Buying locally also helps keep money circulating in the community, while the local economic return from independent businesses is on average 48% of revenue from independent businesses. Chain retailers, by contrast, recirculate only 13.6% of their revenues in the communities where they do business. When you factor in buying local products at a local independent store, that percentage is even higher.
BR's Christmas Shopping List: chocolate
Chocolate is always a good idea, as business or personal gift set. Check the online stores for Leonidas, Chocolissimo, or  Choco Fashion.
BR's Christmas Shopping List: Romanian traditional sweets
By now, you probably know that cozonac is a sweet bread, into which milk, yeast, eggs, sugar, butter, and other ingredients are mixed together and allowed to rise before baking. It's more a Eastern Europe region sweet which can be discovered in different mixtures in the area, like the Bulgarian version where the kozunak is prepared by adding lemon zest to the dough mixture, just as the Romanian version.
Most of the Romanian pastries offer cozonac, but we strongly recommend to check the offers from Ana Pan, Mama Pan, Bacania Veche, Cofetariile Delice  or Cofetaria Maria.
For more exquisite products, try out Noeme list of Christmas goodies.
Chocolate as gifts: how to still create meaningful surprises for the loved ones
Asked by Business Review for some chocolate gifts recommendations, Ion Codreanu from Leonidas says that "Chocolate is always an inspired choice, in terms of a special gift, especially if it is a quality Belgian chocolate.
Whether it is for a loved one or for business partners, a box of Leonidas Belgian pralines is a perfect gift to show our appreciation and give a gift that will remain in the mind of the recipient. Thus, we recommend iconic boxes such as Bijoux or Ballotins, which are highly appreciated and have the effect of generating many smiles and thanks".
For this Christmas, they also suggest the Xmas White, Choco & Wine or Zanzibar Noel boxes, depending on the person to whom the gift is addressed.
Business Review will continue Christmas shopping list every day until almost Christmas. Please buy responsible and try to offer something for those in need. This Christmas is going to be even more special. If you know a business that can be featured in one of our lists, please contact us. Read all our Christmas Shopping Lists here.