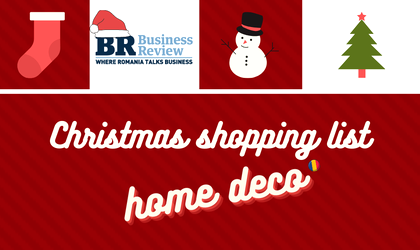 With some cities in lockdown and a pandemic crisis in place, with the number of cases increasing every day, Christmas Shopping List will be a bit of a challenge for everyone. Up until now, small gatherings are still permitted, so maybe you should plan this vacation for family only. But Santa will find everyone, so Business Review made a list of shopping ideas for the loved ones.
This year's list will focus entirely to Romanian entrepreneurs and Romanian businesses in order to sustain small businesses. Buying locally also helps keep money circulating in the community, while the local economic return from independent businesses is on average 48% of revenue from independent businesses. Chain retailers, by contrast, recirculate only 13.6% of their revenues in the communities where they do business. When you factor in buying local products at a local independent store, that percentage is even higher.
BR's Christmas Shopping List: wood products and small home deco products
For those looking for something more substantial, you should try some unique pieces of furniture. Take a look at designs by Bucin Mob, Lemnivor, Askia or Urban Woods and check our all-time favourites from Dizainar and Atelier Anda Roman.
BR's Christmas Shopping List: rugs
For handmade rugs, try Dare to Rug and Made with Love Romania online shops. Both shops offer a reinterpretation of traditional Romanian motifs with a contemporary approach.
BR's Christmas Shopping List: candles
A lot of homemade candle businesses have appeared on the market this year. Check Cup&Candles, MO – Candles and more, and The Room Candles for beautiful candle ideas.
BR's Christmas Shopping List: illustrations made by Romanian artists
Look out for pieces of art designed by Madalina Andronic, Illustrescu, Diana Dragne, Ana Banica or Paula Rusu. Or you can order something tailor-made from them.
BR's Christmas Shopping List: bedding
Plus, you could seek out Romanian brands that have invested in premium bedding materials: I'm cotton you and Cotton therapy, as well as deFlorian.
Business Review will continue Christmas shopping list every day until almost Christmas. Please buy responsible and try to offer something for those in need. This Christmas is going to be even more special. If you know a business that can be featured in one of our lists, please contact us. Read all our Christmas Shopping Lists here.