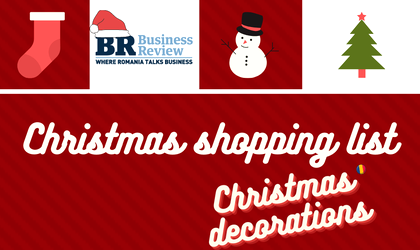 With some cities in lockdown and a pandemic crisis in place, with the number of cases increasing every day, Christmas Shopping List will be a bit of a challenge for everyone. Up until now, small gatherings are still permitted, so maybe you should plan this vacation for family only. But Santa will find everyone, so Business Review made a list of shopping ideas for the loved ones.
This year's list will focus entirely to Romanian entrepreneurs and Romanian businesses in order to sustain small businesses. Buying locally also helps keep money circulating in the community, while the local economic return from independent businesses is on average 48% of revenue from independent businesses. Chain retailers, by contrast, recirculate only 13.6% of their revenues in the communities where they do business. When you factor in buying local products at a local independent store, that percentage is even higher.
BR's Christmas Shopping List: Christmas decorations
Christmas Shopping List: handmade Christmas ornaments
It's definitely the most wonderful time of the year, although the pandemic crisis is still present in our lives. Yet, we should try to enjoy as much as possible this season and spend time with our loved ones in a Christmasy way.
Check small handmade surprises from illustrator Madalina Andronic's store, Breslo online shop, Fuleki Glass which produces decorations with Murano Glass or handwritten words with green accents from Botanical pick-me-up.
Also, one of the largest glass ornaments stores in Romania has its production in Cluj Napoca, ProdGlob. The company is one of the top players of the market, with production being sold all over Europe and US.
If your time permits, most of the shopping malls offer Christmas fairs inside and you can find there handmade objects to be offered as gifts.
Christmas Shopping List: flowers, Christmas trees, wreaths, table arrangements
There is no Christmas without Christmas tree, whether is a natural one, from plastic or a creative form of building a tree from sustainable materials. For some time now, wreaths and table arrangements appeared in our homes, too. See what's in store for instant delivery from Maison Dadoo, Flori de Lux, Floria.ro, Florariile Iris, or Purple Flowers. Also, if there is too much green, try out Popia for creative products made of materials carefully foraged from the Romanian rural scene.
Flower business in covid-era: how to still create meaningful surprises for the loved ones
Asked by Business Review how is business this time of the year, Marina Popescu, general manager of Floria.ro, the online flower shop, explained that "After 10 months of trying to keep a business going during the pandemic, with all the unexpected, it was obvious that this Christmas will remain special, in all terms. In October, when we started the preparations for this season, we realized that there are two tracks to follow: helping our customers avoid exposure, while maintaining the joy that Christmas brings".
The team behind Floria.ro project created a project where  you can have your Christmas "delivered" at home, within two hours, with no efforts, without leaving your house: Christmas tree, Christmas wreaths, table arrangements, advent wreaths, even gifts for your dear ones.
"On the other hand, even though it is advisable to spend as much time inside, one cannot ask the citizens to just loose the holiday spirit. What we did different from the past years was manufacturing smaller decorations, so our clients can have a little Christmas symbol all around their home, with a fair price: little Christmas arrangements for the table, miniature Christmas trees, door Christmas wreaths. Plus, we introduced a new section, with symbolic Christmas gifts to send to their loved ones, without them getting exposed at a large family dinner. We understand that this year, Christmas is more about the soul and the feelings, then it is about material things, so we tried to adapt our offer to that", added Marina Popescu. Moreover, they encouraged customers to buy less, even if it sounds counterproductive, or at least buy sustainable, considering the general economic situation and the care for the environment.
"The first step for us, in this case, was opting for simple and sustainable Christmas decorations. We focus more on the Christmas tree itself, as it is the star of the holiday, then we do on the decorations. We go for less decorations, smaller sized and natural. We use dried lemons or dried orange, anise, cinnamon sticks, eucalyptus, pinecones, cotton flowers. Besides their beautiful aspect, with a vintage vibe (reminding us of our grandparents' Christmas tree), they also bring a natural scent inside our homes. We alternate them with star shaped decorations or little angels, made of wood , dried plants, or ceramic, in our attempt to use less plastic", states Marina Popescu, general manager floria.ro.
Business Review will continue Christmas shopping list every day until almost Christmas. Please buy responsible and try to offer something for those in need. This Christmas is going to be even more special. If you know a business that can be featured in one of our lists, please contact us. Read all our Christmas Shopping Lists here.