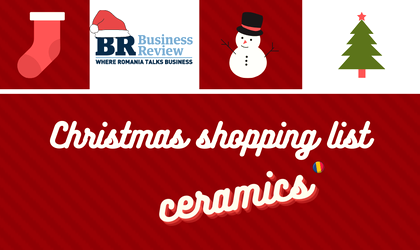 With some cities in lockdown and a pandemic crisis in place, with the number of cases increasing every day, Christmas Shopping List will be a bit of a challenge for everyone. Up until now, small gatherings are still permitted, so maybe you should plan this vacation for family only. But Santa will find everyone, so Business Review made a list of shopping ideas for the loved ones.
This year's list will focus entirely to Romanian entrepreneurs and Romanian businesses in order to sustain small businesses. Buying locally also helps keep money circulating in the community, while the local economic return from independent businesses is on average 48% of revenue from independent businesses. Chain retailers, by contrast, recirculate only 13.6% of their revenues in the communities where they do business. When you factor in buying local products at a local independent store, that percentage is even higher.
BR's Christmas Shopping List: ready to buy ceramics
Some ceramists appeared recently in Romania, with incredible works of art instead of cups and mugs. Moreover, some of them got really creative and wrote down funny messages on their plates. The result? Read the list behind.
Chicineta is one of the creative online stores where you can buy something with a funny message. Their current collections are named "Christmas after Xmas" and "Cooking for Santa".
For some artsy and decorative ceramics, check Mica Cera and Wagner Arte Frumoase si Povesti. 
BR's Christmas Shopping List: unique pieces of ceramics
For handmade pieces of ceramics, check out Studio Mud, Atelier Tron, Poemi, Victoria Finala, Ceramica de Nocrich and DeCeramica.
BR's Christmas Shopping List: vintage approach of ceramics
Vintage is gaining more and more followers this year, with a series of initiatives which present wonderful porcelain and ceramics treats for those willing to invest in such objects.
Check out Fandosica, Philocaly and Sorbitor for vintage jewels, but also these Instagram pages which sell ceramics: Comori Uitate, Cu Dichis and Kitchen Store, just to name a few.
Business Review will continue Christmas shopping list every day until almost Christmas. Please buy responsible and try to offer something for those in need. This Christmas is going to be even more special. If you know a business that can be featured in one of our lists, please contact us. Read all our Christmas Shopping Lists here.