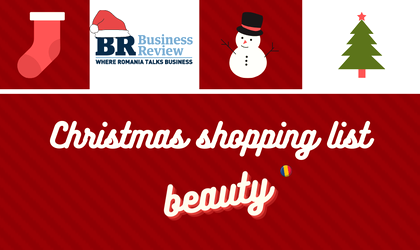 With some cities in lockdown and a pandemic crisis in place, with the number of cases increasing every day, Christmas Shopping List will be a bit of a challenge for everyone. Up until now, small gatherings are still permitted, so maybe you should plan this vacation for family only. But Santa will find everyone, so Business Review made a list of shopping ideas for the loved ones.
This year's list will focus entirely to Romanian entrepreneurs and Romanian businesses in order to sustain small businesses. Buying locally also helps keep money circulating in the community, while the local economic return from independent businesses is on average 48% of revenue from independent businesses. Chain retailers, by contrast, recirculate only 13.6% of their revenues in the communities where they do business. When you factor in buying local products at a local independent store, that percentage is even higher.
When it comes to cosmetics and beauty, the global trend is to look out for sustainable products which use high quality ingredients. We highly recommend and encourage to read carefully the labels and the information about the products in order to be fully convinced you bought something good for your skin.
BR's Christmas Shopping List: well-established Romanian beauty brands
By now, you probably know that Ana Aslan, founder of the world's first geriatrics institute, was also a famous Romanian scientist, who has founded the world's first Institute of Geriatrics. She discovered the first anti-aging remedy, called Gerovital, that has been used in countries around the world. Gerovital products are currently sold through Farmec, another well-know Romanian beauty brand, which has several cosmetics lines for all types of skins, and products for children, women, men and also categorised by their age. An online shop is available here with a series of discounts.
Ivatherm is another Romanian brand with international exposure, which combines the skin healing properties of ancient thermal waters with modern science for highly effective skincare treatments to sooth even the most sensitive skin. Ivatherm is a dermatologists recommended, clinically tested, pharmacy born brand and they have a commitment to sustainability. You'll probably find them in any pharmacy and beauty shop, yet you can discover more about their brand & products on their online shop.
BR's Christmas Shopping List: new Romanian beauty brands
Iehana is a Romanian brand which produces organic handcrafted cosmetics and some of their products have Kangen Water, an antioxidant with anti-aging effects. Kangen Water has powerful anti-inflammatory effects and it is considered to be living water with miraculous properties. Beauty products of Iehana are available here.
NN (Natural Nutrition) should be on your list, while the brand's recipes started in 1950s by a Romanian pharmacy lady who wanted to improve the cosmetics she was doing in the lab for her skin.  NN creams and serums find all these beauty building blocks in 100% organic natural ingredients and essential oils, combined in accordance with the needs of every skin type. Check their story and products here.
Sabio Cosmetics are handmade products, with clean products and design, which makes them a easy to purchase. From babies to all kind of skin problems, the company offers a vast range of products. Find them here.
NALA could be an option for you body skin routine. The brand uses certified vegan ingredients and can be bought from here.
Techir is another Romanian story which offers products with a infusion of Techirghiol Lake water – with a series of antirheumatic benefits courtesy of the high salinity of the water – translated also in other products to help out the skin. Ideas for presents can be found here.
Zahra – Drops of Nature should be checked out, especially if you are interested in the side stories of a product. Their ingredients are exclusively of natural origin, provided by reliable manufacturers, local or foreign. Also, they do not test products on animals and do not use ingredients that by their cultivation can affect biodiversity and ecosystems. See more here.
Business Review will continue Christmas shopping list every day until almost Christmas. Please buy responsible and try to offer something for those in need. This Christmas is going to be even more special. If you know a business that can be featured in one of our lists, please contact us. Read all our Christmas Shopping Lists here.