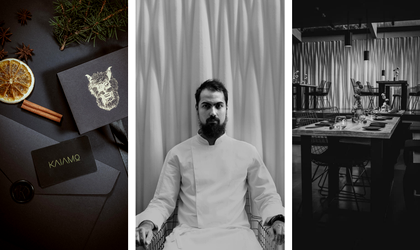 For this Christmas, Business Review has started a list of Romanian entrepreneurs and businesses offering Christmas packages and gifts. For those interested in one of a kind culinary experience, Business Review talked with Radu Ionescu, Founder & Head Chef KAIAMO.
KAIAMO (30A Ermil Pangratti Street) is one of the Romanian restaurants featured on the World's 50 Best, and described as shaking up Bucharest's dining scene. To step within is to enter a world of contrast: traditional/modern, familiar/surprising, neon/neutral, understated/over-the-top. Chef Radu Ionescu spent seven years in London, working at the likes of Dabbous, and it shows. His goal: to flaunt the edible riches of the region, through high-end incarnations of classic, internationally influenced recipes. Swerving mediocrity, an exciting new menu is rolled out every quarter.
For this Christmas, KAIAMO offers "Kaiamo Gift Collection", encasing a sensory experience of 9 or 11 Courses, with an optional pairing of wines from the local Romanian terroir.
"The Kaiamo Author #Card" is wrapping a full 1 on 1 experience with the Head Chef at the eating bar. This 4-hours long exclusive experience will take you through the entire journey of our restaurant through 15 or 20 courses with an optional pairing of wines from the local Romanian terroir. The experience is available to purchase for the entire month of December. Options are available both for personal or corporate entities.
How do you describe your work to someone who doesn't know anything about your offers?
We simply allow our work to speak for itself. We are running a sensorial, conceptual restaurant that is all about the tangible experience that the Guests have with every single meal. With all modesty attached, if this dining experience is comparable with another one within the local market, then it is no longer KAIAMO. That is why our USP relies on the experience itself.
Why choose a tailor-made present (or curated selection) for Christmas? Why yours?
For the fact stated previously, that such an experience can turn any Guest into a culinary aficionado and enhance the experience of the local Romanian terroir through an experimental type of cuisine based on the true values that Romania has to offer.
How did you prepare for this festive period? Do you expect increased sales?
Due to the Governmental restrictions and regulations still in place, it is very hard to see any increase in sales or income. This period, like the last 2 years already, has been mostly about financial survival and cost management at its peak.
What's the most important lesson you have learned by creating your product?
In today's world, people tend to search for experiences, for a state of mind, of taste, of feeling. If you can impact and influence that in a unique, genuine, and tangible way, then you might be able to make a difference in someone's life within the simplicity of a mere plate of food. That is why KAIAMO remains #notjustarestaurant.
Business Review will continue the Christmas shopping wishlist every day until Christmas Eve. Please buy responsibly and try to offer something for those in need. This Christmas is going to be even more special. If you know a business that can be featured in one of our lists, please contact us. Read all our Christmas Shopping Lists here.