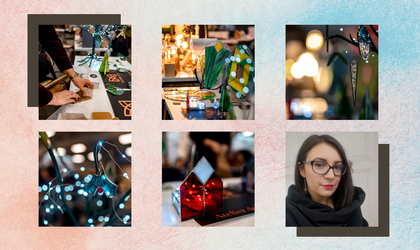 For this Christmas, Business Review has started a list of Romanian entrepreneurs and businesses offering Christmas packages and gifts. For those interested in timeless handmade products, Business Review talked with Mariana Cismaru – Maruan Stained Glass founder, a local brand specializing in stained glass.
How do you describe your work to someone who doesn't know anything about your offers?
My name is Mariana Cismaru and I am the owner and manufacturer behind Maruan Stained Glass. I create custom-made stained glass pieces using the Tiffany method for stained glass windows, sun catchers, or stained glass decor objects. I am also offering stained glass classes for adults who want to know more about the process behind creating such a piece of art. 
Why choose a tailor-made present (or curated selection) for Christmas? Why yours?
Stained glass manufacturing is a rare art in this day and age, but the objects are truly mesmerizing and bring a very unique touch to any space. My Christmas collection has an heirloom quality to the objects, that can be passed down in the family, as a stained glass object has a very long-lasting life and transcends seasonal trends. A stained glass manufacturing class is also a unique gift that offers the receiver a once-in-a-lifetime opportunity not only to learn by doing but also to take home a piece created by its own hands.  
How did you prepare for this festive period? Do you expect increased sales?
I have created over 100 stained glass decor objects especially for Christmas which will be available for the Christmas fair and also on maruan.ro, my online shop. This is a change from the usual 'made by order' flow at the atelier. Thus I expect that this Christmas collection will bring increased sales. 
What's the most important lesson you have learned by creating your product?
I have learned that there is no way of rushing the manufacturing process, as each piece is unique due to the handmade manufacturing, thus it is important to plan and start the manufacturing work well in advance for the gifting season.