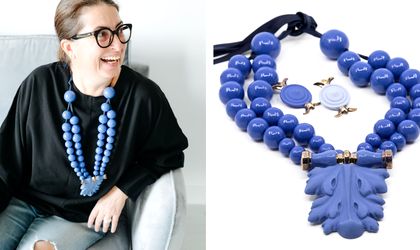 For this Christmas, Business Review has started a list of Romanian entrepreneurs and businesses offering Christmas packages and gifts. For those interested in some unusual jewelry, Business Review talked with Mihaela Speranța Cherciu, founder and designer of Atelierul de Portelan.
Mihaela creates small sculptures of leaves, arches, spirals and spheres climbing down from the walls of dying buildings in Bucharest.  By pinning them to your chest is how she is saving them from being forgotten. A lot of old buildings in Bucharest are considered "architectural jewels" but unfortunately some of them are so ruined that the most we could do was to photograph the most beautiful decorations of their façade and immortalize them in porcelain.
How do you describe your work to someone who doesn't know anything about your offers?
Being educated in fashion design, I always had a  keen eye on fashion accessories. I have discovered ceramics 6 years ago , more specifically porcelain, and I felt in love with it, with its elegance and versatility. Today, I create spectacular jewelry, for special days and for everyday.
Why choose a tailor-made present (or curated selection) for Christmas? Why yours?
In general, gifts are expected to reflect its receiver taste and personality, and we all like our own unicity. So, giving and receiving designer items can only be suitable for these special holidays.
How did you prepare for this festive period? Do you expect increased sales?
As soon as the year ends, I start to think about the next year's winter holidays, imagining and planning the next collection. In the summertime, I actually start working at the Christmas accessories and ornaments, and the work is done in the weeks prior to December. Winter holidays are one of the best sales events, so, yes, I expect good sales this month.
What's the most important lesson you have learned by creating your product?
The most important lesson is that for any new creation I need to fail, rethink, try again and only after that I can achieve spectacular results.