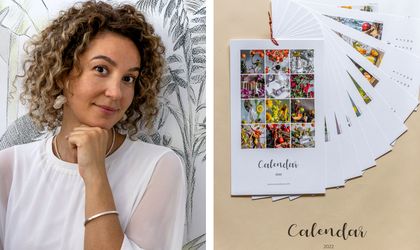 For this Christmas, Business Review has started a list of Romanian entrepreneurs and businesses offering Christmas packages and gifts. Business Review talked with Anca Duse – founder of AncaDuse.com, a creative photography business, who recreates different scenes in miniature – now pictured for 2022 calendar and agenda.
How do you describe your work to someone who doesn't know anything about your offers?
My work is best described by clients' feedback. Most of them find my conceptual photography to create a colorful Alice in Wonderland feeling, bringing inspiration and a "wow" factor for the eye.
I have started this "miniature" project in 2020, during March lockdown, aiming to document how my old traveler life suddenly changed. Thus, I've replaced the great outdoors with miniature worlds, seeking beauty even during uncertain times. Each photographic project is unique, and it is made using flowers, fruits, and other very familiar items. The character is there only as a reminder of how amazing this world still is.
After some time, I wanted to give a physical dimension to my work and I started to produce fine art prints, spruce calendars, and creative notebooks based on my photography creation.
Why choose a tailor-made present (or curated selection) for Christmas? Why yours?
I honestly believe that I must stay in line for people's choice because there are so many well-established creators and artists accomplishing amazing, curated pieces of work. 
 Choosing a tailor-made preset means, in my opinion, that you care a bit more about the person who receives it and about your role in the community. 
 Usually, a tailor-made present is made by a local creator, in a limited number of copies (or even unique pieces) and often with a lot of work put into it. In the end, besides the object, there are two dimensions: the emotion that present is created and, from a more down-to-earth perspective, the economical circle that closes. Choosing to buy from a local creator means supporting a small business.
How did you prepare for this festive period? Do you expect increased sales?
We are going through challenging times when planning is almost impossible. Is more about adapting and reacting fast with hopefully inspired business decisions. Yes, I do expect an increased sale, based on the fact I diversified the selection of products in my ancaduse.com shop. Now people can choose to invest in a wider selection of fine art prints, framed prints, calendars, and notebooks if something is pleasing their eye.
What's the most important lesson you have learned by creating your product?
Come to think about it, there are a few lessons I have learned in one year and a half of being on my own and starting my creative business, but the most important is the relationship you form with people alike. I feel grateful to be able to bring a drop of color and inspiration to other people's lives and have a path to follow. The rest of the circle closed down naturally, but not without effort and hard work, I must say. At least in my case.