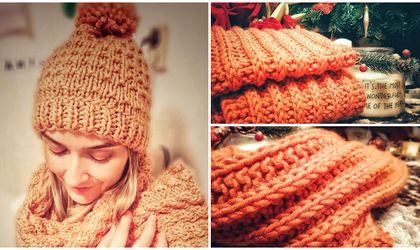 For this Christmas, Business Review has started a list of Romanian entrepreneurs and businesses offering Christmas packages and gifts. In a new installment of this series, we talked to Iulia Titimeaua, who created her own line of hand-made knitted clothing items, perfect gifts for the Holiday season.
How do you describe your work to someone who doesn't  know anything about your offers?
My knitting work is simply the pure joy of finding time to relax, settle for myself and share with others.
Why choose a tailor-made present for Christmas? Why yours?
Choosing a tailor-made present is always a good option to make an original gift, in a more personal way. My hand-made items are designed with love, care, and a lot of positive energy investment.
How did you prepare for this festive period?
My knitting is majorly related to displaying a large variety of scarves and knitted hats and gloves, choosing interestingly daring colours for this season and trying new patterns.
What's the most important lesson you have learned by creating your products?
Sharing is caring and by giving I know I shall always receive back the energy I placed in while developing the process of knitting by seeing happy clients and friends and supporting my designs