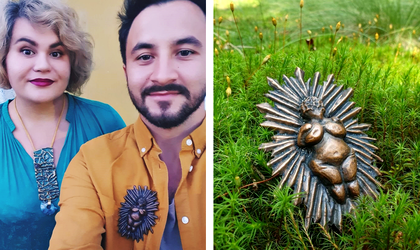 For this Christmas, Business Review has started a list of Romanian entrepreneurs and businesses offering Christmas packages and gifts. For those interested in jewelry made from scratch, Business Review talked with Alexandra Șoman, founder and designer of Orfevru.
Orfevru is a Timisoara-based hand-made workshop, where Alexandra Șoman – founder, designer, and materials sourced, and Radu Muj, co-founder, maker, and vendor are creating beautiful pieces of art which can be worn as jewelry.
How do you describe your work to someone who doesn't know anything about your offers?
We are a young couple that has discovered together the passion to create wearable pieces of adornment, that we call jewelry. Nature is always the Muse, and we include in our creations materials like natural stones and crystals, bone and ivory, antlers, shells, and beetle wings. Through our designs, we envision a pretext that lets the public imagine and discover underlying narratives about themselves. With a simple piece of body adornment, the emotions and behavior of a person can suddenly change, and all one needs for this to happen is just a little bit of courage, for trying them on.
Why choose a tailor-made present (or curated selection) for Christmas? Why yours?
Handcrafted and custom-made objects entail the most intimate imprint of the maker, every small detail was thought of and brought to life within their hands. Ours is to be chosen because we dedicate all of our time and energy to the creation of our jewelry, fabricated from scratch: we do everything ourselves, there are times when we even source our materials & cut our stones, which is an invaluable experience we bring to the making of these wearable artworks. Sometimes the inspiration is also quite peculiar, so for an alternative vibe, you can choose #orfevru. We hope to fulfill the unexpressed & subtle desires of its bearer.
How did you prepare for this festive period? Do you expect increased sales?
We usually work at our own pace, but during this festive period, when we have more chances to exhibit our artisanal accessories at local fairs, we have to optimize both our designs and the manufacturing itself. Both of these processes involve time and require a relaxed state of mind, through which we can constantly come up with novel designs, build our collections and do the extra labor necessary.
Through our experience, we can say that successful sales are a well-thought strategy, a long-term process combined with a game of chance, so every time we hope that we'll find the right people, who will appreciate our mostly unconventional work and the skills involved, women with an open eye and soul to our hand-forged stories.
What's the most important lesson you have learned by creating your product?
I believe we can certainly say at this time that commitment is the most important lesson that we are continuously learning, which is a fundamental brick in the foundation of all things and relationships, businesswise or concerning a daily routine.