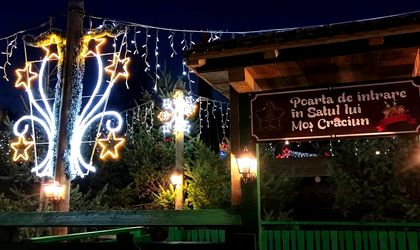 For the joy of thousands of children in our country, in Negrești, Neamț, began the construction of the only theme park dedicated to Santa, entitled as simple as possible, "Santa's Village". And the best news is that it will be open all year!  
An original project, inspired by the stories of an old leprechaun, the entrepreneurial investment is set to be a future landmark appreciated both by children, parents and tourists. The park, which will be inaugurated in early December this year, will be open throughout the whole year. During all this time, the visitors will be able to meet Santa Claus in person along with all his famous reindeer, ruminants brought especially from the Scandinavian area to complete the magical setting of the leisure complex.
According to the project, "Santa's Village" will include an entire ensemble: Santa's office, his home, his post office, the stable and the workshops where the old man loved by children all around the world spends his time when it's not December over the year.
Santa will have a Romanian ID card. "Santa's Village" is under construction, a story setting of 2 million euros  
In the service of future visitors and Santa Claus, 30 helpers – mime and pantomime actors, circus performers, educators specialized in educational workshops, maintenance and protection staff, but also seasonal traders – will make "Santa's Village" become one of the landmarks of fun in the area of Moldova ", says the manager of the original leisure project, Ciprian Munteanu, who mentions that Santa's new home was not chosen at random.  "The village of Santa Claus is nearby the historic Târgu Neamț, with the Neamț Fortress and Ion Creangă's Humulești. The monasteries of Agapia, Văratec, Neamț, Horaița, Sihla, Horăicioara, Almaș, Bodești, Sihăstria and Secu are in the vicinity. Basically, it is positioned at the confluence of dozens of landmarks for excursions and hikes and, throughout the year, it will provide a fairytale atmosphere ", adds the representative of the 2 million euros entrepreneurial project.