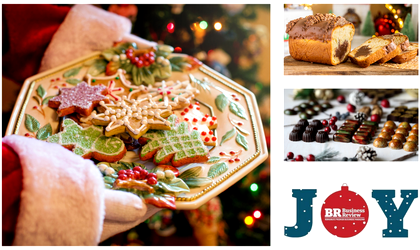 Last year, Business Review started a holiday special editorial series featuring Romanian entrepreneurs and businesses which offer Christmas packages and gifts. This year, establishing our very own BR Christmas tradition, we will continue the shopping list with fresh new ideas for your family, friends, or colleagues.
BR's Christmas Shopping List: Chocolate & Sweets
Chocolate is always a good idea for a business or personal gift set but finding the best chocolate retailer out there might be a daunting task. Check the online stores for Leonidas, Chocolissimo, or  Choco Fashion.
BR's Christmas Shopping List: Romanian traditional sweets
By now, you probably know that cozonac is a sweet bread, into which milk, yeast, eggs, sugar, butter, and other ingredients are mixed together and allowed to rise before baking. It's more of an Eastern European sweet that can be discovered in different mixtures in the area, like the Bulgarian version where the kozunak is prepared by adding lemon zest to the dough mixture, just as the Romanian version.
Most of the Romanian pastries offer cozonac, but we strongly recommend to check the offers from Ana Pan, Mama Pan, Bacania Veche, Cofetariile Delice  or Cofetaria Maria.
BR tip: Hurry up with the orders, it's going to be a very busy period for them to bake all these goodies.
One of the best options for premium goodies are Le Manoir gift boxes. For those with an Italian sweet tooth, a must is Degusteria Francesca. Revino sells Romanian delicacies in boxes, namely a selection of wines and premium local cheeses. Dor de Vin, a brand developed by Anika Restaurant, offers creative packages containing wine and several other goodies.
Business Review will continue Christmas shopping list every day until almost Christmas. Please buy responsible and try to offer something for those in need. This Christmas is going to be even more special. If you know a business that can be featured in one of our lists, please contact us. Read all our Christmas Shopping Lists here.