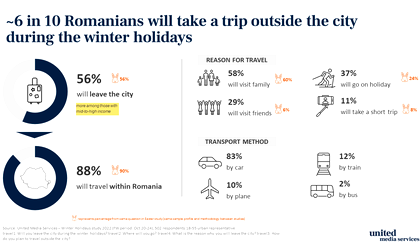 Consumer habits tell a lot about what the new trends will be and as the year comes to a closing we are not only looking back, but also at the future. Therefore, when it comes to one of the most important celebrations of the year – the winter holidays – United Media Services took a deeper look into how Romanians are planning to spend their time, consume media, but also how much they intend to purchase and what are the reasons behind those decisions.
The study was conducted on October 20-24, on a sample of 500 urban respondents, aged between 18 and 55 years old. The interviews took place online, and the sampling was done by quotas, according to sex, age and degree of urbanization. It's the second holidays study created by United Media Services this year, after the Easter one.
The winter holidays are a period of joy for most Romanians, as 84 % of the respondents declared that no matter how tough the times are, they are always happy when the holidays come around, while 78 % value holiday traditions and strive to maintain them in my family as usual. At the same time, 72 % said that compared to prior years, they will be more cautions with spending (shopping/ travel), while feel more stressed about the upcoming winter holidays compared to other years, due to the current context (inflation, war).
Moreover, two thirds of Romanians will use their available funds for holiday purchases and 2 in 5 expect to spend more compared to last year, mostly due to inflation. However, only 28% have saved up for the holidays and 7% will use a credit card/ borrow money to be able to cover the expenses, which suggests either an intention to spend within their means or a financial constraint that makes it difficult for them to prepare in advance.
Shopping moving in November, connected to Black Friday
"Winter holiday shopping has already begun, and Black Friday is a big opportunity to tick off some items from the shopping list. 56% of Romanians declared they have already started shopping for holidays in November or even earlier, apparel and beauty products being the top categories. Black Friday is a key moment in the bigger context of holiday shopping, with 1 in 2 people planning to buy Christmas presents on this occasion; electronics remain the most sought-after products on Black Friday," said Anca Băcăianu, Head of Strategy & Research at United Media Services.
At the same time, the Black Friday label is perceived by Romanians to be used excessively and over half of Romanians aren't impressed with the promotions or even think they're real, with 52 % declaring that the BF promo period is too long, it's not clear when the event actually takes place. Still, 47 % said they feel bombarded by BF promo messaging sent beforehand, but it appears that this messaging has an effect, as 41 % admitted that in previous years, they often bought more things than planned.
Continuing the pandemic trends, 3 in 4 Romanians will make at least some of their purchases online, citing convenience and range of products as their main motivating factors. Romanians prefer multi brand online stores – 71 %, followed by malls and shopping centers, hypermarket / supermarket – 58%, single brand online stores – 30 %.
"Consumers are looking for value. Despite the excitement, people have concerns about inflation, with 3 out of 4 declaring they will be more cautious with this holiday spending compared to the previous years. Brands are expected to ease the burden of inflation, and those offering appealing promotions will come out on top," also declared Anca Băcăianu.
More video content than before
When it comes to how they are looking towards media and entertainment, 72% of Romanians said they will be watching video content (TV, VOD, YouTube, etc) during the holidays and 37% say they'll be doing it more than usual. The situation very much resembles United Media Services' Easter Holidays report, when it was discovered that 1 in 2 Romanians said they enjoy watching Easter-specific shows and TV shows and more than 63% will watch video content (TV, YouTube, etc.) in their free time during Easter, 25% saying they will consume it more often than usual.
When it comes to traveling, over a quarter of Romanians have family abroad that will come back for the winter holidays, but only 4 % will go abroad to visit family members. Moreover, 6 in 10 Romanians will take a trip outside the city during the winter holidays, just as it happened with Easter, while 88 % will travel inside the country. Most trips will be made by car (83 %), with only 12 % by train and 10 % by plane.