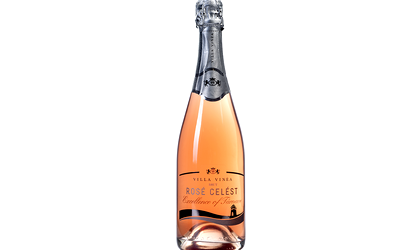 The Transylvanian winery Villa Vinèa announces the launch of Rosé Celést Brut 2019, the first rosé sparkling wine in its portfolio. The wine, made entirely from Pinot Noir grapes, joins in range the already known Cuvée Celést, the sparkling wine which has received, over time, a series of recognitions from oenologists, out of which a silver medal in the 2020 International Wine Bucharest Contest.
Rosé Celést Brut 2019 comes as a response to the trends of the wine market, in which consumers are increasingly open to discover rosé sparkling wines, and is designed as a modern product, which addresses a young, dynamic market segment.
"Taking into account the constant increase of appreciation for the winery's existing sparkling wine, we decided to develop the range, creating Rosé Celést Brut, an exuberant, quality wine, suitable for those which love complex gastronomic experiences as well as those who want to enjoy a effervescent rosé, meant to open their palates.", says Misi Dénes, Production Manager and the winery's local oenologist.
The newest wine of the Villa Vinèa winery is made according to the traditional, French method of champagne production. Its fermentation took place in bottles for 18 months, and the disgorging took place in October 2021.
"Rosé Celést Brut 2019 brings an explosion of fresh and crunchy red fruits, doubled by a beautiful minerality, specific to the Tarnave Valley. The color of the wine is pale pink, with orange iridescence, and the bubbles are intense and long. The nose is delicate, with peaches, fine pastry sensations and aromatic herbs. The body is full, creamy, with a lively acidity and well-integrated alcohol. The taste brings together May cherries, strawberries and pink grapefruit, all elegantly integrated and wrapped in a discreet remnant of sugar. The long and fresh aftertaste leaves notes of citrus peel, muffin and bitter, refined sensations. It can be enjoyed as an aperitif, but also with salads or grilled seafood.", mentions Razvan Avram, wine specialist and founder of the Paharnicul.ro platform.
Rosé Celést Brut 2019 is available in Villa Vinèa brick-and-mortar stores, online, on www.villavinea.com and in specialized wine shops, starting from 55 Lei / bottle.