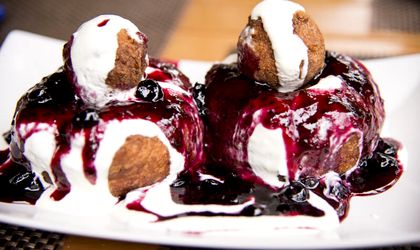 When you visit a new country, one of the first things you need to do is try out its traditional cuisine. Romania is well-known for its great foods and desserts and it would be a real shame if you didn't experience some of them during your visit – you may be surprised by the flavours and you will most definitely think they are delicious!
Here are a few of the Romanian dishes you need to try: 
Sarmale (cabbage rolls) 
There are several versions of this dish, but these pickled cabbage rolls usually contain minced pork and beef, rice, onion and various spices and they are served with polenta and sour cream. In some recipes, the cabbage is replaced with vine leaves, which create an interesting taste and texture.
Polenta with cheese and sour cream 
Although polenta is technically more of a side dish, many Romanian families also serve it as a standalone main course, accompanied by generous amounts of telemea (similar to feta) cheese and thick sour cream. They may also add a fried egg and some bacon and turn it into what's known as a "bulz" dish.
Mici
Mici are caseless sausages made from mixed ground meat (pork, beef, lamb) and spices and they are a true staple of Romanian cuisine. You can't have a barbecue without mici in Romania! They are served simply with mustard and bread.
Soups
Romania has many amazing soups – some are called "ciorba", meaning that they contain borscht or another type of acidic liquid like pickled cabbage juice. Some of the most popular varieties are the tripe soup (ciorba de burta), the fish soups that are a speciality of the Danube Delta area, the dumpling soup (supa de galuste) or the beetroot borscht.
Deserts
Plum dumplings 
This dessert is very simple, but incredibly delicious. Plums are placed into a dough made from potatoes, flour, eggs and butter and the dumplings are then rolled around in breadcrumbs, sugar and cinnamon. They can be served on their own or with a bit of sour cream.
Papanasi (cheese doughnuts) 
Papanasi can be boiled or fried, but the fried version is definitely the most popular one, and you can find it in any restaurant. They are made using soft cows' cheese (similar to ricotta) and flour and served with generous amounts of sour cream and jam.
Cozonac
The cozonac is basically a brioche-style, fluffy sweet bread, and Romanians mostly make it around holidays like Christmas and Easter, but you'll be able to find it in shops and bakeries throughout the year. It usually contains a filling that may include cocoa, raisins, walnuts or Turkish delight – sometimes all of them together.
Photos: dreamstime.com