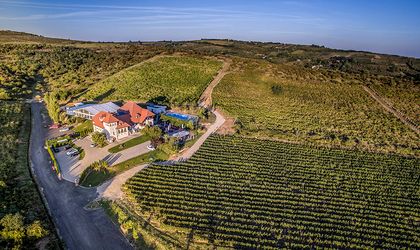 This year, we celebrate the National Day of Gastronomy and Wines for the second time, whose importance is rising considering that, in the current context, tourism and the hospitality industry need support from both consumers and authorities.
The initiators of the law on declaring a National Day for Gastronomy and Wines in Romania, Nico Lontras – Executive Chef Casa Timiş, Cezar Ioan – publisher vinul.ro and Cosmin Dragomir – publisher gastroart.ro, desired to celebrate the national culinary identity on a dedicated day. Precisely because, as Nico Lontras said in 2019, "it is an important step in establishing our national, regional, local and microlocal culinary identity. It's time to have a robust and attractive concept for potential tourists, a short, medium and long term strategy that benefits everyone".
In 2018, Romania reached 5.2 million hectoliters in wine production, which puts us on the 12th place in the world and the sixth in Europe. In 2019, there were around 50,000 hectares of new vineyards for wine, out of a total of about 120,000 in economic exploitation with some degree of industrial efficiency. On the other hand, Romanian producers have a hard time making their mark on international markets, with only 3.5% of production reaching exports.
Therefore, although Romania produces wine in large quantities, we fail to promote national production and, precisely in this sense, the National Day of Gastronomy and Wines is an opportunity to promote local production.
"The National Day of Gastronomy and Wines in Romania can be one of the factors that trigger the desire for re-discovery, pride and progress. The French, Italians, Spaniards, Germans, Czechs, Turks (and almost all cultures "with history" we can look at) have made gastronomy (and wines) the spearhead for attracting tourists, for exports, for rebuilding the invisible ties that make up the intimate strings of a nation", explained Cezar Ioan last year when the law was approved.
The three promoters will team up this year with Sergiu Nedelea, known as the best sommelier in Romania, in presenting a menu specially designed for this day and in discovering the secrets of wine and terroir in Dealu Mare. Thus, on October 4, they meet on the Wine Road, at Casa Timiș, to celebrate the National Day of Gastronomy and Wines in Romania in nature, in the middle of the vineyard and the Romanian traditions and values.
The National Day of Gastronomy and Wines in Romania is celebrated on the first Sunday of October, respectively October 4 this year, being established by Law no. 79/2019, promulgated by President Klaus Iohannis on April 24, 2019.