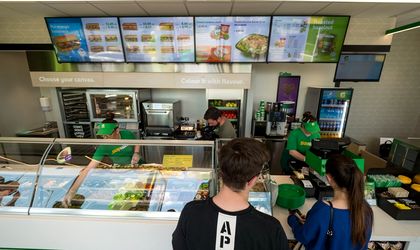 Subway Romania has launched its first Fresh Forward Decor restaurant in Bucharest, under the slogan "Colorfully fresh, by Subway".
The company has 500 employees and 39 restaurants in Romania. The newest restaurant opened in Bucharest's AFI Cotroceni brings brighter colors and a cleaner, fresher design.
"In general, the Subway brand, compared to other, bigger players on the market, has 3 to 5 times smaller investments per store. And since the franchise is responsible for the investment, from equipment to everything else that it implies, it's around EUR 60,000-70,000, but the whole investment in a new store, with everything it needs, is somewhere at around EUR 140,000. This also depends a lot on the location. These numbers I've told you are an average," Irena Ockova, Communications Specialist SUBWAY Central & Eastern European Area office, told Business Review.
All of the Subway stores in Romania will be remodeled in the following years, according to Ockova. She said that after discussions with all the partners in the country, they plan to change 2-3 stores in major cities this year.
"It's a long process, because it's not just about ordering the equipment. They have to contact the design department in the US, and they have to make an architectural plan so that everything will fit as it should. So the stores will be changed one by one, and this will take a few years," said the Subway official.
"The equipment was updated a little bit. In general, in the 2017 rebranding, we didn't change the procedure related to the way the costumer creates their sandwich with the sandwich artist, but we updated two items from the store to make it easier for the consumer and the employees as well. Even though the investment is considerable, this will not affect the final price for the customers. To keep the costs to a minimum, we are using fresh vegetables from locals, but this is hard because are countries in Eastern Europe where we have only 4 or maybe 8 stores, not like in Romania where there are almost 40. So we are trying to negotiate for all of them," she added.