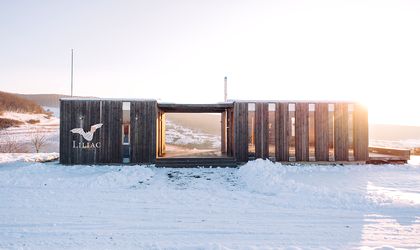 During the event "Premiile pentru vinurile romanesti" (The awards for the Romanian wines) organized by Gault & Millau Romania, Lilac's Ice Wine won the award for the best sweet wine, with a score of 93 points. The Ice Wine produced by the Liliac Winery in collaboration with the producer Kracher in Austria, one of the world leaders in desert wines, is a blend of Neuburger and Pinot Gris.
By Romanita Oprea
The wine was also included in the Romanian wines' guide created by Gault & Millau, where one can find other three labels from the Liliac Winery, Nectar of Transylvania, Liliac Pinot Noir Rose and Liliac Feteasca Regala.
The Lechinta Vineyard has all the climatic conditions for the production of this type of wine. The frozen grapes are manually picked up, at a temperature of -13°C, at the beginning of December. The concentrated mash obtained by the pressing of the frozen grapes gives birth to a wine in a reduced quantity and very sweet. It is fermented and maturated in tanks of stainless-steel, for 9 months, on dregs. It results a yellow-golden colored wine that has a bouquet of wild flowers, with aromas of yellow fruits – apricots, peaches and lychees. At taste, it's fresh and vibrant, with a nuance of pineapple and a final with tropical fruits notes.
Moreover, the desert wine Nectar of Transylvania, created after the schilfwein method, took the second place.
"Ice Wine is one of the hardest to be produced wines in the world, but us, at the Lechinta Vineyard, we are blessed with one of Europe's regions where this thing is still possible. The winter has already installed itself in Transylvania, therefore we are already hoping that the 2018 production will be possible very soon. We are proud that the result of our hard work was recognized and treasured as it should by the Gault & Millau jury, a thing that is compelling us in the future to maintain this high standard," said Miron Radic, CEO amb Wine Company.