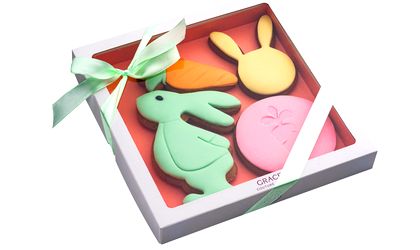 In order to cultivate hope and keep part of the traditions that make the holidays beautiful, Grace Couture Cakes launches a collection of premium desserts for the Easter celebration.
"We keep the tradition started 8 years ago, bringing to our Grace Couture Cakes customers their favorite sweets and cakes, for them to enjoy while celebrating the holiday. We are aware that for most of us all this Easter will look different from last years. We created this the special "Easter Hope" collection as an invitation to cultivate our hope, preserving some of the traditions that make our holiday beautiful: the sweet surprise from the Easter rabbit, the chocolate egg hunt and the family meals." Alina Sudriu – founder of Grace Couture Cakes.
The Easter Hope collection, which includes a wide range of personalized premium desserts (Belgian Callebout chocolate eggs, choux, macarons, Essentials cakes, Drip Cakes, personalized eclairs), as well as the traditional Easter cakes in Romania, is available from 06 April 2020, online and in the Grace Couture Cakes Shop in Dorobanți Square no. 5.
The Grace Couture Cakes delivery service is currently available to those who cannot spend Easter with their extended family or dear friends, giving them the opportunity to surprise them with a personalized gift box or a special Easter holiday dessert.
Grace Couture Cakes deliveries are made with the company's regrigerated vehicles, authorized by ANSVSA, so the company can control the safety of the delivery process. Orders can be picked up from Cake Shop Dorobanți or can be delivered to the address indicated in the order.
The national emergency affects the Grace Couture Cakes business, with sales falling by more than 60% over the same period last year.  "We make considerable efforts to put the team of 57 employees on the first place and to keep our promises to our customers, to always offer them premium, quality and safe products. We are confident that we are supported by the operational level and standards we have reached, taking into account the development and professionalism of the team, the procedures, all the systems related to production and logistics,  as well as the online cake shop."  says Alina Sudriu.
The production atelier and the brand's Cake Shop in Dorobanți Square no. 5. remain open during this period, the company adapting to the new regulations. "We have taken increased hygiene and safety measures both in the laboratory and in the store, we monitor the health of the team and we treat with responsibility the recommendations of the authorities. We produce in a laboratory with a large space, which complies with all food safety regulations. We disinfect often all surfaces, both in the workshop and in the cake shop." Alina Sudriu.