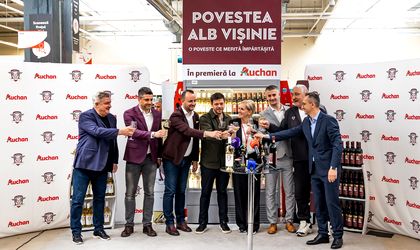 After launching the FC Rapid fan shop and the Giulesteana beer, Auchan Romania continues developing the partnership with FC Rapid, introducing in its offer the official wine of the football team. The launch took place last week at Auchan Crangasi, a store located in the Giulesti community, and it will soon be introduced to other Auchan stores in Bucharest, as well as online, at auchan.ro
The Povestea Alb Visinie wine collection is produced by Domeniile Averesti and takes inspiration from the values and colors of the Giulesti-based team, promoting new beginnings for the club, as well as for football fans.
"We are happy to develop the partnership with FC Rapid by offering new products and experiences to Rapid fans and our customers. We are joyful and emotional about this launch, that takes place together with supporters among our customers and employees. The Povestea Alb Vișinie wine collection is available, in a first phase, in thr Auchan Crângași store, located in the Giulești community. Afterwards, it will be available in the rest of our network. We have prepared a series of extra bonuses through our fidelity program and we can't wait for June, when we will celebrate the centenary of FC Rapid's existence together with the team", declared Tiberiu Dănețiu, Marketing Director for Auchan România.
The wine produced by Domeniile Averești in their own wineries from Huși is available in two varieties: Sauvignon Blanc, white semi-dry, and Cabernet Sauvignon, burgundy red dry. According to the producer, the white semi-dry variety has a unique, freshly cut apple flavor and a jasmine-like perfume, while the red variety surprises with its berries flavor and sour cherry notes.
"We have been delighted by the two challenges we received: to create wines that would honor a football team and take responsibility for creating a sought-after product. We strongly believe that, besides the quality we accustomed fans of wine with, the efforts and passion behind the new collection bring pride to both the club and consumers", declared Rareș Florea, Country Manager Domeniile Averești.
The official FC Rapid wine costs 19.90 lei, and for a month, until June 18, MyCLUB Auchan members receive a 10% cashback as a bonus on the fidelity card, when they make such a purchase.
"Rapid was always more than a brand, it was a story, and stories transmitted from one generation to another between fans of Rapid always take place in front of a glass of wine. This wine will celebrate each white-burgundy story beginning with this centenarian year and beyond", declared Daniel Niculae, FC Rapid President.
Besides, to celebrate together with FC Rapid and its fans the 100-year anniversary of the Giulești-based club, Auchan will offer all throughout June a 5% discount through the MyCLUB Auchan card to all FC Rapid fan shop products.