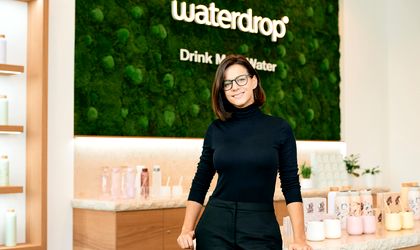 Waterdrop, the Austrian start-up launched on the Romanian market in September 2021, continues to develop on the local market. By 2022, the company aims to grow its existing customer base by 60% and penetrate the local market more strongly as a partner in online stores, encouraging a balanced lifestyle and an optimal hydration regime.
Waterdrop is the first brand in the world to create Microdrinks (cubes with natural flavors and water-soluble plant and fruit extract) designed to stimulate greater fluid intake for a healthy and balanced lifestyle. The company currently serves 12 European and US markets, both online and in 19 physical stores. Its expansion is supported by a steady 400% growth since its launch back in 2016.
To date, more than 200 million reusable products, Microdrinks, and containers have been sold to more than 1 million consumers worldwide, saving up to 30 million plastic bottles, and the company is considering expanding to Asian markets. Waterdrop CEE is committed to carefully handling the essential raw material, water, and helping to protect the environment. The solutions offered help save up to 98% of packaging and CO2, protecting the planets' resources.
In Romania, consumers received the launch of Waterdrop very well, finding in these products a viable alternative to sugar-containing beverages while appreciating the quality of containers produced in the European Union.
"This year we aim to know in more detail the profile of the Romanian consumer and to bend to his needs. We are concerned about sustainability and a balanced lifestyle, and we want to support a hydration regime adapted to the diverse needs that people have in their daily lives. We plan to expand our portfolio and launch more product lines adapted to the local market context", says Katerina Navratilova, CEO of Waterdrop CEE.
Recently, the company launched two new varieties of Microtea drinks, an organic product made from natural ingredients and pure tea extract, without preservatives or sweeteners, suitable for optimal hydration in the cold season: Microtea GOLDEN ASSAM – black tea with honey and Microtea GREEN OASIS – green tea and lemongrass. The products are available online and complement the existing range of four flavours. Each cube dissolves in 400-600 ml of hot water, at the recommended temperature of 60 degrees, resulting in a hydrating hot drink with minimum caloric content.
Waterdrop aims to provide its consumers with functionality and design at the highest standards of quality and aesthetics, while actively contributing to the promotion of a balanced lifestyle. With the high quality of the natural ingredients used and the unique product design, the manufacturer aims to create a community around the brand and to be present in daily life. 
The start-up has set up a community of members who want a healthy lifestyle – Waterdrop Club. As part of this, consumers benefit from a reward program such as points accrued equivalent to the value of each order, which can then be converted into free products.
"So far, several hundred customers have become members of the Waterdrop club in Romania. We were surprised to find that the percentage of Romanian customers who have joined the club was higher in the first 3 months after entering the market compared to the Czech Republic and Italy, which gives us hope that we will evolve positively in this market and we will be able to contribute to changing the lifestyle of more people", said Katerina Navratilova, CEO of Waterdrop CEE.