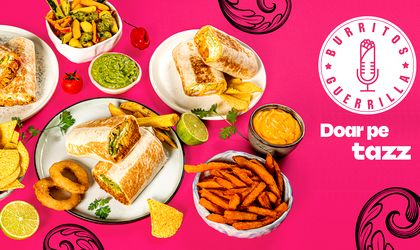 Tazz, the local fast delivery platform, and Radio Guerrilla, one of the most prominent radio stations in Romania, are launching a new virtual brand inspired by the Mexican gastronomy.
Burritos Guerrilla marks the seventh virtual brand of Tazz Republic, a program launched by Tazz in April this year to support the expansion and digitalization of its partners.
The Burritos Guerrilla restaurant offers a versatile menu, designed for both meat lovers and vegetarians. The menu includes seven burritos, with ingredients that are carefully chosen in order to offer consumers an authentic gastronomic experience. The Mexican menu launched by Tazz and Radio Guerrilla is available in the following varieties: Guerrilla Burrito, Chilli con Carne Burrito, Mexican Pulled Pork Burrito, Beef and Pork Burrito, Chilli Chicken Burrito, Crispy Chicken Burrito and Veggie Eggs & Chilli Burrito. The recipes have been created to satisfy all tastes, from meat lovers, with chilli con carne, beef and pork or lamb ragù and crispy chicken, to vegetarians, with vegetable and beans fajita, combined with other ingredients and sauces that enhance the authentic taste, adding a fresh finishing touch to the dish. In addition to burritos, customers can order separately a carefully selected collection of side dishes and sauces to complement the experience offered by the Burritos Guerrilla virtual restaurant, available ONLY on Tazz.
"Burritos Guerrilla is a very important project for us. First of all, this launch represents the expansion of the Tazz Republic program, Burritos Guerrilla becoming the seventh virtual brand launched in the program. Secondly, it's a special collaboration for us as we created Burritos Guerrilla along with our long-term partners and friends, Radio Guerrilla. It's a unique collaboration between a local delivery platform and an alternative national radio, who manage to launch their own virtual brand together for their customers. " said Alin Serban, Tazz CEO.
—
"It's a premiere for us to have a virtual brand named after us, and we're glad we did it with Tazz. Burritos Guerrilla is a partnership that we are very proud of, that represents us and that we hope will bring us even closer to our listeners. These dishes offer an unforgettable Mexican culinary experience, aimed to bring authenticity and happiness, as we intend to do daily through music." Adrian Popescu, Managing Partner of Radio Guerrilla, added.
Burritos Guerrilla are available for order exclusively from the Tazz app and site in the following cities: Bucharest, Timișoara, Cluj-Napoca and Brașov, soon to be launched in other big cities in Romania.