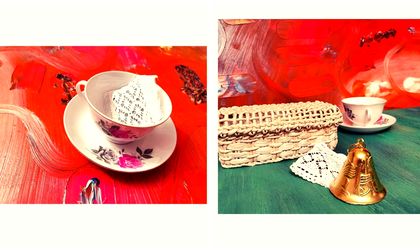 Silk Tea launches its first products on Kickstarter, through a start-up campaign. Elegant and subtle, the new tea embodies 15 years of research, reinvention, and expertise. Numbered from 1 to 500, Silk Tea Experience tea boxes offer an exclusive opportunity to own a unique, innovative product with history.
A limited-edition private collection, the offer is only available through Kickstarter.com at the moment, the innovative tea comes in a limited-edition handmade kit and is a 100% Romanian product
"Silk Tea Experience is an authentic product, in a special box made of braided corn leaves, a special object created for this concept. Each box is different and personalized, it contains between 8-10 tea bags made of 100% cotton lace, which makes the teacup look precious and special. In the box, there is a small information leaflet where we find the recipe for Silk Tea Experience, the business concept, the genesis and the spirit of Silk Tea, the individual message to the buyer and of course the list of benefits of drinking this tea." Says entrepreneur Victoria Baltag, the creator of Silk Tea. "Beyond the experience of consuming an innovative product, which combines corn silk flowers (Stigmanta Maydis) with Achillea Millefolium (Yarrow), vinars (literally "burnt wine," a traditional Romanian brandy) and milk (all types of milk, from cow milk to soy milk), we have a whole list of health benefits when we consume this beverage." She adds.
The product is detoxifying, calming, diuretic, rich in potassium, lipids, minerals and vitamins (C, E, B, K), strengthens the immune system, is an anti-depressant, regulates cholesterol, balances blood pressure, increases the speed of the digestive system, optimizes functions gallbladder and liver, reduces cellulite and invigorates the skin, maintains cell elasticity and permeability, the Silk Tea creator explains.
In addition to a refreshing, light flavour that comes with the corn silk tea, the brandy brings energy and spice to the drink, while milk has a sweetening effect. The box comes with a personalized authentication certificate and a numbered certificate signed by the author of this product, Victoria Baltag. Moreover, the initiative comes as a social business, 25% of the price of each box will form an investment fund for women entrepreneurs at the beginning of their start-up road.
"Being handmade, the production of this jewel-tea takes 8 weeks of preparation. The box is more than a mere product; this is a cultural object made with the hands and soul of the craftsmen from Odorheiu Secuiesc. The tea box is made of woven corn cobs, which takes weeks of hard work. Our teabags are made from a special, high-quality, 100% cotton design lace and cheesecloth. There is no plastic in the teabags so your tea is 100% healthy and freshly stored. These tea bags are carefully and patiently sewn together so that your teabag-jewel can be safely placed in your cup." Says Victoria.
It is the first tea box of its kind and the first sustainable concept-product made by combining science with art and culture ("art-science concept"). The tea box-kit is also made of a recyclable, organic, eco-friendly, non-allergic material, with a special aesthetics and a series of precious tea bags made of crocheted cotton.
Moreover, when purchasing a teabox, the buyer will receive a unique souvenir, carefully designed by artisans from Transylvania and Maramures: such as a handmade wooden spoon, a holder for the consumed tea bag, an interior decoration item, or other handicrafts. Depending on the chosen box, the buyer can also opt for a series of surprise items, which come in addition to the tea package and are unique objects, made by traditional Romanian craftsmen: a lamp or a chandelier made from braided corn leaves, a chair, a table, a bread holder, and more.
"By purchasing the Silk Tea Experience, you help this story continue. You get the joy of experiencing this delicious new recipe, and creating jobs for people in the community. When you support a small business, you support a dream! Thank you for making this dream come true, and becoming part of our story!" Concluded Victoria Baltag.
The 500 single boxes are available at prices starting at 150 euros and can be purchased from https://lnkd.in/ggmUK4en  until January 30, 2022.
By A.M. Filip