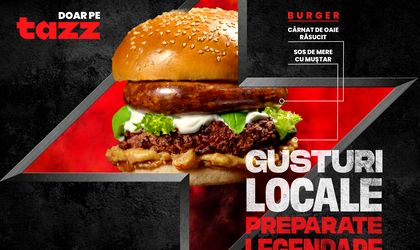 Conducted in partnership with D&D Research on a sample of over 1600 people, the study started from the desire of defining the taste of home, but also Romanians' culinary influences in their consumption habits. The results show that, on one hand, 81% of Romanians associate specific ingredients with the taste of childhood, suggesting that their relationship with food is both nutritional addition and emotional. On the other hand, 1 of 3 Romanians orders burgers, pizza, and pasta at the restaurant, showing an increased interest in international dishes.
"With local know-how and a desire for innovation, we kicked off with a market study to analyze Romanians' consumption habits. We also talked to our partner restaurants, where chefs have already started to bring local ingredients back to life. With all the data on the table, we launched for the first time in Romania, through a partnership with over 1000 restaurants in the portfolio, a new product category – "Local tastes, legendary dishes", through which we brought local tastes to the most beloved international dishes. Together, we are giving space the new Romanian cuisine to develop, while the taste of home becomes the secret ingredient of local experiences, delivered only by tazz", says Alin Șerban, CEO of tazz.
In terms of Romanians' preferred home tastes, the study highlights a mix of dishes and ingredients that instantly remind of childhood. The results show that, regardless of the category, cinnamon is the ingredient most associated with childhood, followed by milk, cheese, potatoes and fruits. When it comes to desserts, apple or cheese pie represents the unmistakable taste of childhood (chosen by 15.4% of Romanians), along with other cakes (7%), pancakes (5.6%), doughnuts (4.5%) or dumplings. In terms of salty home-made preserves, the first places are occupied by pickles in vinegar or brine (17.1% of Romanians), pickled red peppers (13.7%) and "zacusca" (9.2%), while most preferred sweet preserves are jams (38.4%), jelly (32%) and plum "magiun" (13.4%). Cold appetizers with the most representative local taste are sausages (chosen by 18% of Romanians), smoked meat (13%) and salami (11.5%), while, in terms of cheese, 25% of respondents chose "telemea" and 16% "burduf" cheese.
"It was very interesting to discover the way in which Romanians' food preferences are influenced by international trends, but also by culinary nostalgia from various areas of the country, highlighted by ingredients representative for the taste of home. Correlating them with their favorite dishes at the restaurant, the study shows an increased interest of Romanians both for local tastes and for international cuisines." adds Dan Petre, D&D Research.
"Local tastes, legendary dishes" – the new tazz campaign, dedicated to the new Romanian cuisine
The taste from home, outlined by the study, becomes the core of a new product category launched for the first time in Romania by tazz: "Local tastes, legendary dishes" – a collection of over 2000 new dishes, based on the most popular international products and reinvented by chefs with local ingredients, exclusively for tazz.
Among the dishes Romanians will be able to order on tazz are Bruschette with "zacusca" and "burduf" cheese, Burger with twisted sheep sausages, Shaorma with tender chicken leg and baked peppers, Pizza with mushrooms and matured Horezu cheese or quesadilla with matured cheese from Apuseni of the Torockoi. In terms of desserts, tazz customers can enjoy organic Romanian sea buckthorn Sorbetto, Cannoli with "urda", nuts and vanilla or vegan Brownie with Romanian "magiun" boiled in "tuci", available between November 3rd and December 15th, 2021.