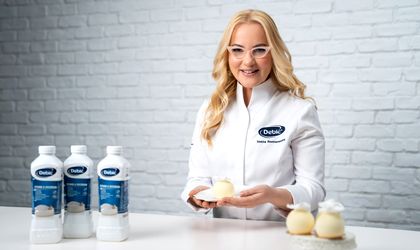 Double award winner in 2022 as "Best Pastry Chef" at the Horeca Women Awards Gala (First Prize) and at the Horeca Awards Gala (Second Prize), Ioana Romanescu – entrepreneur and founder of Cupcake Philosophy – joins the international network of Debic ambassadors, the top 3 global dairy brand for professionals with a history of more than 100 years.
The decision to designate Ioana Romanescu as Debic ambassador – in order to promote quality products among Romanian confectionery and pastry professionals – was driven by Ioana's modern and elegant concept in desserts and her experience as an entrepreneur. Ioana Romanescu is the first Pastry Chef to become the face of the brand in Romania, through a partnership that also represents a recognition of the standard of Romanian confectionery and the professionals in this industry.
The first Romanian to graduate from the Le Cordon Bleu's Pastry Innovation & Wellness Program
Ioana Romanescu is a graduate of one of the most prestigious pastry schools in the world, Le Cordon Bleu – Paris, which is today considered the largest network of culinary and hospitality schools in the world, with more than 35 institutes in 20 countries. Moreover, the entrepreneur is the first Romanian who graduated from the Institute's "Pastry Innovation & Wellness" program, designed to provide a culinary education that emphasizes innovation and creativity. In 2014, Ioana Romanescu founded Cupcake Philosophy, passing €1 million turnover in the last 8 years, with a portfolio that includes over 200 elegant and innovative desserts. Pastry Chef Ioana Romanescu is currently a trainer and mentor for those who want to specialize in the art of desserts, teaching training courses in the HoReCa industry and contributing to the development of the next generation of confectioners and pastry chefs.
"We admire Ioana's creations because they are complex and very balanced at the same time. They are elegant and visually appealing, but without being overwhelming. Moreover, Ioana has a solid background behind her concept and business model. All these are examples that confirm Ioana's unique talent and that led us to choose her as Brand Ambassador in Romania", added Natalyia Marchuk, Debic International Account Manager.
Participating in international programs with world-renowned Pastry Chefs, along with her determination and drive for innovation, has helped Ioana become a creative and passionate Pastry Chef, creating multi-award-winning desserts along the way. In 2016, Cupcake Philosophy was able to be the caterer for the 2016 Sports World Wedding of the Year, as well as two of the weddings designated as "Best Weddings" in 2017. Also in 2022, Ioana Romanescu was named "Best Pastry Chef" at the Horeca Women Awards Gala and received 2nd place in the same category at the Horeca Awards Gala.
"I completely identify myself with Debic's motto, 'Made for professional hands', which I had the joy of discovering during my studies at Le Cordon Bleu Institute, when I first tested the brand's products. I realized that professionalism is a value we share, and I have been loyal to Debic products for all my creations ever since. I believe that unforgettable desserts are built with quality ingredients, and in Debic I have found not only a representative for all that is high quality, but also a reliable partner. I am honored that they have chosen me to be part of their family of Brand Ambassadors made up of world-renowned Pastry Chefs. It is a confirmation of the quality of the work behind everything we have built and, of course, of the professionalism in the hands of my entire team," said Ioana Romanescu, Pastry Chef and founder of Cupcake Philosophy.
Worldwide recognition for the Romanian desserts and pastry industry
By collaborating with Ioana Romanescu, Debic wishes to promote quality products among Romanian confectionery professionals, but also to better understand the needs of the local industry: "We have a well-developed community of ambassadors around the world, and Ioana Romanescu is the first Debic Ambassador in Romania. We really wanted to work together, and we believe that this collaboration will give Ioana access to our global community of ambassadors by sharing experiences, best practices, inspiration and motivation. Also, collaborating with Ioana in Romania will allow us to be closer to the Romanian confectionery industry, the Romanian pastry and confectionery community and to better adapt to their requirements and needs", said Natalyia Marchuk, International Account Manager Debic.
Debic, 100 years of tradition, main sponsor of the World Pastry Cup
With a 100-year history, Debic provides products that are recognized worldwide by celebrity chefs, pastry chefs and bakers. Debic is also the official sponsor of the Coupe du Monde de la Pâtisserie (World Pastry Cup), which features state-of-the-art dairy products including creams, traditional and specialty (technical) butters, cream cheese, ready-made dairy desserts, ice cream and milk.
FrieslandCampina, the holding company that values sustainability, in the world's top 10 in dairy production
Debic is one of the brands of FrieslandCampina, an international company listed in the top 10 in terms of dairy production. The story of FrieslandCampina began in 1871, when some Dutch farmers decided to join forces to set up a cheese factory. Today, the company employs around 23 000 people in offices in 32 countries and has revenues of €11.5 billion.
The organization represents a cooperative owned by almost 16 thousand farmers. Therefore, together with dairy farmers, Friesland Campina controls the entire dairy chain (feeding and care, milking, milk collection and processing, packaging, and distribution), with the concept from grass to glass, the Debic brand being part of the same philosophy that has sustainability and environmental responsibility at its core: from grass to plate.