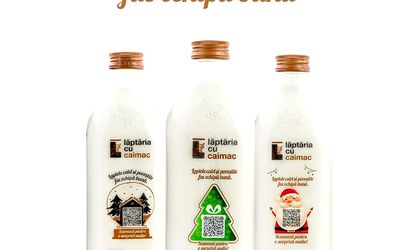 Lăptăria cu Caimac, the producer of 100% Romanian natural and minimally processed dairy products, announces the presence of limited edition labels for its milk bottles. Thus, 2022 becomes the fourth consecutive year in which the bottles are festively dressed for the Christmas holidays – but this year's edition comes with a new element.
To support quality family time, under the umbrella "Warm milk and stories make a great team!" Lăptăria cu Caimac offers access to three audio stories:
"Darul Magilor", by O. Henry, translated by Alex Moldovan, narrated by Bogdan Tudor;
"Iepurele de catifea" by Margery Williams, translated by The Department and narrated by Silvia Gîscă;
"Spiridușii îi spuneau Marni", story written and narrated by Liana Alexandru.
Spiridușii îi spuneau Marni was released during the Gaudeamus Book Fair and recorded by Liana Alexandru especially for this occasion. The title is offered in partnership with the UiPath Foundation and NABU, and the illustrated version of the story is available through the NABU children's reading app.
"This year we wanted to encourage our community to spend as much time as possible with their family and loved ones. We want to encourage children to fall in love with stories. And, because in our family no evening ends without stories, we want to offer everyone the same opportunity. We have chosen three stories that perfectly symbolize the spirit of the holidays and we hope they will bring together parents, children and grandparents, for a slice of cake and a glass of warm milk", said Mădălina Cocan, co-founder and General Manager of Lăptăria cu Caimac.
To access the three stories, consumers must scan the QR codes included on the holiday labels of the milk bottles, after which they will be redirected to a landing page, where they can listen to them with their loved ones all throughout the holiday season.