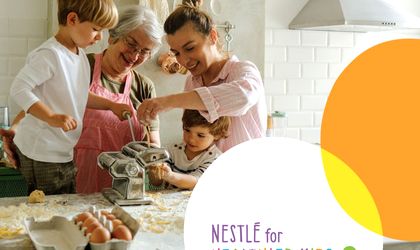 Every year on International Chefs Day, Nestlé runs an awareness campaign of the importance of a balanced diet and children's involvement in food preparation, to encourage healthy habits from early ages.
EUROSTAT statistics1 show that in Romania, 1 of 4 children is overweight or obese and only 40% of Romanians eat vegetables and fruits daily, a habit that must be grown in family. A study2 conducted by specialists from the Center for Disease Control and Prevention in the United States shows that in the pandemic context, childhood obesity has reached alarming levels. The pandemic affected them mentally, thus guiding them to an unhealthy diet.
Studies show that involving children in meals preparation is beneficial, influencing their long-term food preferences. Established benefits include: the ability to prepare food correctly and healthily, increasing the consumption of fruits and vegetables and improving knowledge about nutrition3.
Good nutrition is extremely important for children's growth and development, both physically and mentally. Specialists recommend integration of a nutritious breakfast and lunch in children's diet for a better focus and attention. According to a recent study4, children consuming 5 serving of fruit and vegetables a day achieve a higher mental well-being score than children consuming less fruit and veggies.
"At Nestlé, our desire is to inspire parents and children to make healthier choices for a better life every day. We know that meals are very important in children's development. But before we eat healthy, we must cook healthy. Children accept healthy foods more easily if they are involved in meal preparation. Cooking together also develops an emotional connection with both parents and food, and it becomes much easier for kids to understand the food's role in their lives. It is scientifically proven that eating habits are created from childhood, so it is important to guide our children to a healthy relationship with food", said Nicoleta Tupiță, Nutrition Health and Wellness Manager at Nestlé Romania.
Thinking of childhood make people inevitably associate some memories with the delicious food made by their mothers. The reason is perhaps that food is the purest form of love we have received from our mothers, and its taste is something we will remember for the rest of our lives. This year, on International Chefs Day, Nestlé attends on the tradition and celebrates healthy food through "Recalling childhood taste", a mini-series designed to remind us of the secret of delicious food: love.
Nestlé invited three chefs, Chef Aida Parascan, Chef Cristian Voicu and Chef Ștefan Popescu to prepare some dishes that made their childhood more beautiful, helped by their children. The recipes they prepare today with their kids, with the same love and care. The three episodes in which the chefs, together with their children, venture in the kitchen and "Recall the childhood taste", with the help of the recipes inherited from their mothers can be found on the website https://www.Nestlé.ro/nutritie/international-chefs-day.
For all parents interested in preserving and passing the cooking together tradition, Nestlé has also prepared a contest on https://www.facebook.com/Nestlé.Ro, where they can leave a comment with their favorite childhood recipe and enter automatically in the race for a kitchen kit, which may help them prepare tasty and healthy meals with the kids. Kitchen kit includes: Nestlé for Healthier Kids Recipe book and a Tefal Airfryer.
"It is always a challenge to cook with kids, but at the same time it can be a learning and fun experience. You can give them precise tasks-to wash ingredients, to weigh them, to clean and cut them, to set the table and wash the dishes. In this way, they acquire motor and cognitive skills, and spend quality time with them, moments that will surely be remembered over the years and will be recalled with their own children", said Chef Ștefan Popescu, member of the National Association of Chefs and Confectioners in Tourism.
For the 25th anniversary, Nestlé introduces on the market superior taste and quality products, adapted to consumers' preferences and consumption needs of the pandemic period, when Romanians prefer sustainable products for the whole family, products that are easy to use in the context where cooking at home habits has experienced a new impulse. Nestlé wishes to help consumers choose the right portion through the shape and packaging of the products. Complete and transparent nutritional communication is present on all packaging. Last but not least, Nestlé aims to provide complete information about a healthy lifestyle, communicating on digital channels, on the nutrition sections on https: //www.Nestlé.ro/nutritie, as well as through the educational programs: "I'm living healthy too!"-SETS initiated by PRAIS Foundation and "Granny's healthy bag" initiated by Prof. dr. Veronica Mocanu.
More information about the "Recalling childhood taste" campaign can be found on https://www.Nestlé.ro/international-chefs-day.
A.M. Filip