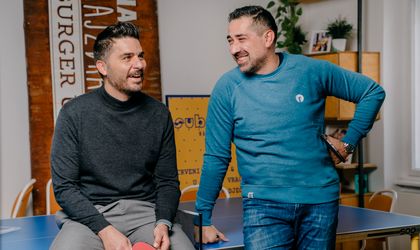 Recently entered on the Romanian fast-casual market, Submarine Burger announces business plans for 2022. The first point of selling in Romania was opened on the principle of dark kitchens, having the products available only through Glovo, for a pilot period.
The Croatian chain of burgers, currently present in Zagreb, Rijeka, Split and Zadar, already has an impressive number of 13 locations. At the beginning of 2022, the brand extends outside the Croatian market choosing Romania as the first country to open new locations, after a pilot period of online presence on Glovo platform.
The main differentiator of the brand is welcoming and supporting local producers. All Submarine products are made from organic local ingredients, like the Romanian "cașcaval" or local meat prepared in a traditional way. The business itself is based mainly on the sale of burgers and has a full honesty philosophy, focusing on the exclusive use of quality ingredients. This is an approach that is and will be used for the future locations as it also has a second objective, helping the global carbon footprint be kept low.
"After a silent testing of the market, this year we plan to open at least 3 restaurants in Bucharest with the scope to bring the whole Submarine Burger experience to Romanian customers. Talking about the long-term strategy and vision, we plan to cover Bucharest with our restaurants in a way that we can come close and available to a wide percentage of the population that can come to eat in our restaurants and enjoy our food also by being delivered or for takeaway – Aleksandar Lazinica, Founder and Co-Owner of the Croatian Submarine company.
Last year, Submarine Burger was included on FT's list of the 1,000 fastest-growing companies, ranking 720th. It is the only Croatian non-technology company included in the ranking. A place on the Financial Times it is not easy to obtain, the entire business has been analyzed in detail over the past five years. To be considered for the list at all, the company had to have an annual revenue of a minimum of 100,000 euros and then at least 1.5 million euros back in 2019. Consequently, the company had to record growth above 35.5 percent. By comparison, Submarine achieved total growth of 221.4 percent, its company revenue in 2019 stood at a staggering 4.5 million euros and had 77 employees.
"We simply adjust the way in which we do business. Agility and adaptation to new business conditions is the key to any company's success. Continually investing in knowledge, new technologies and strengthening the management team has borne fruit. We´re extremely proud of our brand being acknowledged as a success and we will make sure we keep the same growth pace on the Romanian market.

Because we are technology oriented company, we are stepping into the phase of big investments in this area and  in our internal IT team that will allow us to obtain a deeper and efficient penetration of the market, thus more satisfied customers as well. – added Dragoljub Bozovic, Founder and CEO of Submarine.
As a responsible business in Croatia, Submarine is also known through their socially responsible programs and especially due to the cooperation with the Red Noses Clown Doctors Association. The brand is also planning to expand its social responsibility actions in Romania, this year, supporting a relevant cause for the Romanian society.