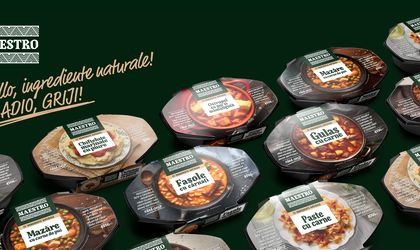 Maestro Ready Meals targets consumers who appreciate high quality and tasty recipes, which it is reflected throughout all the campaign channels and tactics. From the packaging to the product shelf presentation, the communication campaign ads and spots, every detail was carefully developed.
"This strategic positioning in the category of ready-made foods has appeared in response to consumer needs. We got involved in a complex journey of research, discovery, development, and creation of an innovative and complex mix. This is a major step in our growth strategy that we have been preparing for a long time, considering market trends, consumer behavior and growth potential. The new products proposed under the Maestro brand are extraordinary – once tried, consumers will become big fans, enjoying innovation and delicious products in their daily lives," said Ana-Maria Bajan, Director Marketing & PR Caroli Foods Group.
The integrated communication campaign benefits from a strong support on ​​TV, in-store, digital and PR. The TV spot emphasizes how impactful is the new portfolio in the everyday life of a normal family. In a time as stressful as the pandemic, the smallest aspects that could improve our routine are very important. Thus, the new Maestro Ready Meals range removes at least some of the daily worries and saves quality time or gives opportunities for those who need a little help in the kitchen.
The TV spot focuses on emotion, on the delicious recipes made with natural ingredients, with no preservatives, coloring, or artificial aroma and on the problem-solution narrative enabled by Maestro.
"The Romanian consumers look for more time for themselves and their loved ones, time being of essence even after the pandemic ends. Moreover, they expressed a growing interest for a balanced lifestyle, and delicious Ready Meals recipes, like "home cooked", are a great answer for this concern. Based on research, Romanians look for dishes made with natural ingredients. Thus, our Maestro Ready Meals packed in innovative trays, pasteurized and sealed through a one-of-a-kind technology make the difference," said Adina Ionescu, Category Marketing Manager and project leader Ready Meals Caroli Foods Group.
In addition, each recipe benefits from its own product spot (beauty shot), explaining how it can be prepared at home or how it is plated. The innovative Micvac "smart" valve it is also emphasized, which allows the pasteurization and sealing of the dishes directly in the pans.
"We worked at Maestro from the beginning. A lot of work, endurance, with turns of situation and suspense, but especially with some beauty-shots that truly deserve their name. We had some spectacular filming, it's awesome to see in close-up the small world in the plate becoming macro. The meatballs planets, the steep slopes of the puree mountains. But it's even more glorious to see all the technical ingenuity behind the camera: saucepans with plexi walls, pans cut with the angle grinder, cyber-punk inventions with old vacuum cleaners coupled to the microwaves. And, all the team's passion, patience and resourcefulness that made our project possible. Thank you all!" said Maria Ionescu, Senior Copywriter, Next Advertising.
The whole Next team was very close to the client during all the campaign, being the most complex one we developed in the work from distance period of time. It got us closer and kept us anchored in a weekly zoom timing and a permanent open communication. We delivered identity, packaging and a communication platform for tv and digital that we are proud of and we are ready to keep a la long the set standard," continued Ioana Cabuz, Client Service Director Next Advertising.
The Ready Meals Maestro range contains seven appetizing recipes, cooked with natural ingredients, and no preservatives, coloring or artificial aroma (sausage beans, marinated meatballs with puree, beef goulash, pea with chicken, cabbage with sausages, ostropel with polenta, beef pasta), which anyone can enjoy with their loved ones.
A.M. Filip