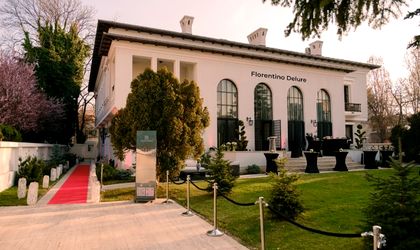 Doors wide open. An inviting terrace for coffee. Windows that highlight the artwork on the hangers. Made in Italy quality and timeless style. This is how Florentino Delure awaits visitors to the concept store, which was launched for the first time in Bucharest on 23 March with a special event, the Grand Launch at the villa on Cpt. Av. Gheorghe Demetriade 14 in Dorobanți, a building included in the "List of Historical Monuments" of Bucharest.
Florentino Delure is a well-known clothing brand created after an Italian concept that promotes style as a way of affirmation and rediscovery. The brand invites all those passionate about the art of tailoring to indulge in the Made in Italy quality in the tradition of Florentino Delure: elegant yet modern suits for men and ladies and Loungewear in precious cashmere and silk fabrics. What's more, the showroom also invites you to the Made-to-Measure area, which can be accessed by appointment. The personalized attention and advice given to each individual customer allows the brand to create the finest suits, shirts, trousers, coats and shoes based on your own measurements.
"In 2014, the brand and company Florentino Delure SRL was created. The idea of founding FD came from a desire to bring a unique Made to Measure concept for men's suits, while in 2016 we launched the first showroom of men's clothing with Made to Measure service in Moldova. The Florentino Delure brand comes from the  "Love in the Time of Cholera" whose main character is Florentino Ariza and the inspiration came from there. Delure is the surname of a Spanish music composer that I liked a lot and I thought it would be a very fitting association – Florentino Delure. The new identity and slogan of our brand is EGO for You." Says Serghei Grigor, CEO at Florentino Delure.
Guided by the brand's motto "EGO is you", the entire concept store is an invitation to rediscovery through style. From now on, the Florentino Delure concept store will be open every day to promote sartorial culture.
Florentino Delure is dedicated to all those who care about elegance and refinement for their wardrobe. Its showroom creates Ready To Wear, Made To Measure and Bespoke outfits, using high-quality fabrics 100% made in Italy and England. Excellent craftsmanship, quality fabrics, great attention to detail combined with timeless elegance turn their suits into a work of art which has also allowed the Florentino Delure brand to establish itself over time and become a successful brand. Each piece signed Florentino Delure is designed by a group of professionals who care about the high quality of the fabrics joined by an extraordinary craftsmanship, resulting in a unique clothing creation: elegant and comfortable with the guarantee of a fair and stable price. Thus, Florentino Delure represents the vision oriented towards both luxury and well-being.