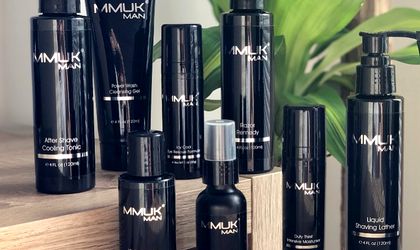 Romanian luxury health, beauty & lifestyle provider Distinctive Lifestyles is proud to announce the launch of the first men's makeup brand in Romania. MMUK MAN understands the importance of modern day men to look their best everyday and provides the UK's widest and best range of makeup for men products, available in Romania exclusively through Distinctive Lifestyle's online male makeup store: www.mmuk.shop. The website includes an assortment of makeup as well as skin, beard, brows and eyes care products.
The launch comes at a time when men's grooming is getting more important than ever as an expression of personal style, whether the look is natural, classic or fashion-forward. In a world where millions of men are trying every trick and treatment in the book to put their best face forward, there's one beauty trend that looks certain to stick around – makeup for men.
"Who says men can't use makeup and other beauty products marketed towards women and still feel masculine? Men's makeup is becoming increasingly popular nowadays as men are more aware of the transformative, youth-boosting effect makeup has for women and they want to experience that, too. From hiding tiredness to simply being an instant pick-me-up, makeup can really boost a man's confidence and the right products, such as MMUK MAN range, are undetectable. The only thing people will notice while looking at a man wearing MMUK MAN products is how good he looks. Men no longer have to steal their girlfriends' or mothers' makeup products, MMUK MAN is here to help them look gorgeous with very discrete intervention" says Corina Ilie, co-founder and managing partner of Distinctive Lifestyles.
MMUK MAN products are specifically created for men's skin types. With a thicker epidermis, larger pores and more active sebaceous glands then women, men have their own grooming and cosmetic needs. Higher levels of testosterone not only result in increased hair growth, but can also cause acne, while regular shaving makes the skin sensitive and prone to break-outs.
Specifically created to allow men to correct their appearance and give them the tools necessary to feel confident, MMUK MAN foundation and concealer range includes products that cover redness, blemishes, irritated skin, spots, rough skin and much more with a simple application, but are at the same time undetectable to human eye. MMUK MAN brow range shapes, defines and tames hard to control men's brows, enhancing natural facial features such as shape and natural eye colour. Designed to fill gaps in the beards, define and sculpt existing facial hair, tame and style stubborn facial hair and deal with irritating patchy beards, MMUK's beard products are available in various subtle tones and will remain undetected all day long. Dark circles, puffy eye bags and general eye fatigue, can now be easily counteracted with MMUK Man's eye care line.
"MMUK MAN products naturally enhance men's features, such as a brightening concealer matching your skin tone to erase dark circles or blemishes and eyebrow and beard care products. Eyebrows are the frame of the face and they make such a difference. Men know how flawless skin can change their appearance and help them look better in pictures or videos. With foundations that look like natural skin and are very light and easy to apply, such as the one included in MMUK MAN's range men can now wear makeup and feel comfortable with it" says Colin Lovering, co-founder and managing partner of Distinctive Lifestyles.
"MMUK MAN's expansion to Eastern Europe has been well planned and it marks a significant moment in the brand's journey to the very top" founder Alex Dalley says. "With both our UK and Romanian teams understanding and appreciating the direction that the male grooming market is currently heading in the region, I'm confident that we will continue to see incredible growth – as more men than ever before continue to bulldozer the boundaries of modern day beauty."
Over 300 beautifully packaged makeup products will be introduced within the launch, followed by seasonal drops. More details about the products at www.mmuk.shop
ABOUT MMUK
MMUK was founded in the UK in 2011 by young entrepreneur Alex Dalley who, filling a key gap in the market, quickly grew to 61,000 GBP in the second year followed by continuous growth through to a turnover in excess of 1 million GBP in 2017. The brand expansion to Romania follows a very successful launch in North America and Australia with further growth planned for other European countries in 2019.