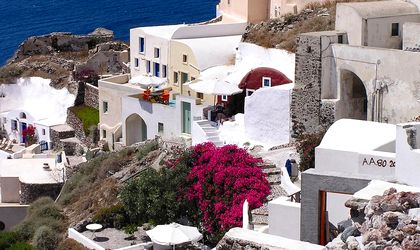 The big tour operators in Romania have opened the season for charter flights to various destinations, so if you want to book a cheap holiday, now is the time to choose.
Regular flights go to Greece's most beloved islands, as well as resorts in Turkey, but if you want to experience something more exotic at low prices, you can choose destinations like Egypt, Tunisia or Tenerife.
The main companies in Romania providing charter flights are Christian Tour, Cocktail Holidays and Paralela 45, with weekly charters that go to places filled with sun, hot sand and crystalline waters.
"It is very important to point out that travelers who choose charter destinations with Christian Tour can purchase both complex packages (including 7 or 14 nights accommodation, air tickets on the chosen route, meals, transfers and tourist assistance) as well as just airline tickets – through the Memento Air platform (mementoair.com), which was launched earlier this year and came in response to requests from many tourists who only want to purchase tickets on these direct flights to the popular travel destinations," said Raluca Hatmanu, Christian Tour marketing director.
Tourists can only buy accommodation from Christian Tour (if they travel by car), while on the mementoair.com platform they can only buy airplane tickets. As far as prices are concerned, they differ from one destination to another, from one hotel to another and from one period to another. For example, for the period around the Rusalii bank holiday, the company offers accommodation deals from EUR 75 / person / 7-night stay in a villa in Greece.
"Greece and Turkey (especially Antalya) are leading the list of those who are looking for foreign holiday destinations this summer. They are followed by Egypt, which is ranked third," said the marketing director.
Charters departing from major Romanian cities
BUCHAREST: Corfu, Rhodes, Zakynthos, Crete Heraklion, Crete Chania, Lefkada, Skiathos, Bodrum, Hurghada, Sharm el Sheikh, Mallorca, Tenerife, Kusadasi
CLUJ-NAPOCA: Corfu, Rhodes, Zakynthos, Creta Heraklion, Crete Chania, Skiathos, Hurghada, Sharm el Sheikh, Mallorca, Tenerife, Sousse, Hammamet, Monastir
TIMISOARA: Zakynthos, Crete Heraklion, Chania Crete, Skiathos, Hurghada
IASI: Hurghada, Crete, Corfu, Antalya
ARAD: Antalya, Tunisia
ORADEA: Antalya, Hurghada
BAIA MARE: Antalya
TG. MURES: Antalya
CRAIOVA: Antalya
BACAU: Antalya
Paralela 45 launches 11 charters to 7 Greek islands
The summer holiday season in Greece began in the first week of June, with 11 charter flights available to 7 Greek islands organized weekly by Paralela 45 from Bucharest, Cluj-Napoca and Iasi. The novelty of the year is the Cluj Napoca – Heraklion charter – Crete is the most desirable summer destination.
More than 20,000 customers have booked holiday packages for Corfu, Rhodes, Crete, Zakynthos, Santorini, Samos and Lesbos. Other 15,000,  Thassos, Lefkada, Skiathos, Olympia, Parga, Halkidiki, Thrace and Kefalonia, with individual transport and accommodation from 12 euro / night / person.
"Greece creates addiction for our tourists. Over 65 percent of holidaymakers on the island or the continent become repetitive customers and go to tourist areas to enjoy the authentic Greek spirit, the atmosphere, the habits of the Greeks – it's a very sought-after destination. Last year it had a record number of 30 million tourists, up 11 percent from 2018, and generated revenues of EUR 21.6 billion," says Alin Burcea, the CEO of Paralela 45.
Romanian tourists, most of them families with children, opt for three, four and five-star hotels, at a budget of at least 800 euros / family. The hotel is selected for children's facilities (swimming pools, clubs or playgrounds, special menu), distance to the sea, sand quality and less after facilities for adults (spa services, massage, sauna). Tourists choose breakfast and half board packages and are interested in island attractions.
For June, Paralela 45 has last minute deals with a 20 percent discount, especially for families who want to go on holiday as soon as their children finish school. A package for a family with two children costs EUR 1,119/ three star hotel in Heraklion – Crete, from EUR 1,437 / three star hotel in Corfu and EUR 1,361 / three star hotel in Rhodes. Children up to 12 years old don't pay for accommodation and the rates shown include all taxes.
Greece is also a popular destination for water sports. Tourists choose Rhodes for surfing, Santorini for diving, Crete and Corfu for windsurfing and kitesurfing, etc.
Apart from Greece, Paralela 45 tourists can also take charters this year to Sharm el Sheikh, Hurghada, Tunisia, Antalya, Alanya, Bodrum, Spain, a total of 54 weekly flights being scheduled this season.
Cocktail Holidays has charters all summer long
"It is very important for us that this year we've introduced internal transfers for more cities than last season, plus we have a transfer to the Cluj airport. In this sense, we have many more requests for this service, which is the bonus included in the packages for charter flights and other offers," said Maria Goicea, marketing director.
According to her, for Greece, there is an upward trend, so for many destinations the number of seats has been increased. For example, for Zakynthos, with departure from Bucharest, the number of seats was increased for this season by about 45 percent, and from Cluj by 25 percent.
"Heraklion is another destination for which the number of seats has increased by 50 percent in 2019. For Chania Crete, the number of seats has been increased for both Bucharest and Cluj by 15 percent, "Goicea said.
Offers for this summer
For Chania Crete rates start at EUR 399 / person – 2 * hotel Recommended 3 * with Breakfast
For Mykonos, rates also start at EUR 399/ person  Anemos Studios Apartments & Studios 4 keys – no meal
For Rhodes, rates start at EUR 336 / person 3 * hotel without meal
All packages include:
7 nights accommodation with a meal specified at each hotel
Carriage charter TAROM
Airport – hotel – airport transfer
Airport charges
Tourist assistance in Romanian
Bonus: Medical insurance and STORNO – Cocktail Travel Protection regardless of age
Bonus: Transfer from various cities across the country to Otopeni Airport
Weekly departures:
Bucharest and Cluj – Chania Crete (30.05 – 19.09)
Bucharest – Crete Heraklion (11.06 – 24.09)
Bucharest – Corfu (18.06 – 10.09)
Bucharest – Mykonos (12.06 – 18.09)
Bucharest – Kalamata (12.06 – 18.09)
Bucharest and Cluj – Zakynthos (15.06 – 21.09)
Bucharest – Santorini (09.06 – 22.09)
Bucharest – Rodos (04.06 – 24.09)
Spain
Weekly departures from Bucharest between 11.06 – 24.06
The number of seats is similar to last year
For Tenerife packages begin at EUR 559 / person without meals
Turkey
Bucharest – Antalya (3.05 – 21.10) – twice a week
Iasi – Antalya – (15.06 – 07.09) – weekly
Bucharest – Bodrum (08.06 – 21.09) – weekly
"Izmir is the novelty of the season. This destination was added this season to reduce the transfer time for some resorts. This year, Turkey is one of the most sought-after destinations for summer vacation, so the number of seats increased by almost 60 percent compared to last year – for departures from Bucharest.
Likewise in Antalya, the number of places for Bodrum also grew. To this is added the Izmir race – being over 700 places in addition to last year's Aegean Sea, "said the Cocktail Holidays marketing director.
For Antalya rates start at: EUR 553 / person with Ultra All Inclusive. We mention that for many races this summer things have been exhausted or very few
For Bodrum rates start from EUR 496 / person 4 * hotel with All Inclusive
Egypt – Sharm el Sheikh – follows autumn operation – operator still does not know will have ready packs