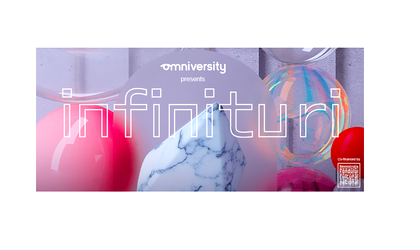 Omniversity is an organisation co-founded by Ioana Mischie and Andra Bria, which started off in 2020 as the first Mixed Reality University in Romania, with the goal of launching projects that combine education and entertainment (edutainment). This time, Omniversity is initiating, with the support of AFCN, a first experience in Mixed Reality, which translates abstract sculpture into an accessible language for a global audience.
Constantin Brâncuși was one of the first to ask what is the role of sculpture: to reproduce the specific image of a subject or its essence? The question generated a universal manifesto. Omniversity continues through Infinituri a series of questions addressed to art and technology lovers: what is the role of sculptural art in the context of new technologies, but also what is the role of new technologies in the context of sculptural art? How can sculpture be preserved, archived, continued, reinvented today? What is the relationship between the physical and the digital, participatory sculpture?
Brâncuși created a unique modular portrait of the infinite, which was later followed by numerous international sculptors. The artistic collective from Omniversity aims to expand this practice and invite young people to curate and create their own versions of the infinite, using 3D sculptural modules. The sculptures made by each individual player can be read as a symbolic self-portrait, as a sculptural avatar, but also as an attempt to illustrate infinity from a philosophical point of view.
"How can we represent infinity with finite means? The "Endless Column" marked a spiritual revolution in modern sculpture, opening new paradigms of thought, new sculptural methodologies and a new semantic. Modular sculpture gradually evolved into generative, participatory sculptures. Our mission is to reflect on infinite sculptures, on their modularity, repetitiveness and seriality, and explore them as inspiration to create our own interpretations of the infinite. Through this project we invite explorers to build, deconstruct and re-construct their own art forms, their own totems, their own worlds." – Ioana Mischie, Transmedia Director Infinituri.
—
"How do we go from a standardized unit to a larger, more complex composition? How do we go from a single piece of wood, to an Infinite Column? Infinituri is a tribute to evolution, to the evolution of art, and sculpture, in particular. Every great art piece started from a piece of wood or concrete. Modern sculpture, like every work of art, is a reiteration of previous sculptures, starting from antiquity till now. Infinituri speaks about possibilities, it's the hope of becoming for every artwork that starts as a small block. Art is repetition and restatement. And modular art is the type of art that states this ethos more than any other. In modular art the units can be subsequently moved, removed and added to – that is, modulated – to create a new work of art, different from the original or ensuing configurations." – Andra Bria, UX designer & Communication Lead.
—
"Infinituri represents for me, an the application developer, a personal challenge, that of utilizing the newest technology in an attempt to create a complex, but easy-to-use, intuitive and delightful experience." – Emil Drăgan, Technology Lead
The project team brings together multi-awarded professionals: 3D artists, specialists in interactive technologies, consultants in the field of modern sculpture and consultants in the field of contemporary architecture. The experience is conceptualized and directed by Ioana Mischie, the script & UX Design are signed by Andra Bria, art direction and 3D modules are made by Tammy Lovin, interactive design and 3D adaptations are made by Emil Drăgan, graphic design and the UI are signed by Andreea Clar, while the sound design is thought by Ina Bozdog. The website is developed by The New Craft. The project benefits from creative support from the Storyscapes Association and Studioset.
The technology applied is that of Mixed Reality (MR), a creative and participatory method, used both for learning and for experimentation and entertainment, and a perfect tool for stimulating motivation, attention, spatial imagination and perception. The user-creator follows an intuitive path, using hand tracking technologies to deconstruct and re-construct the modular sculptures.
Within the game, users will explore several dimensions: educational sculptural puzzles, which they are invited to discover and then reconstruct, but also their own creation of 3D sculptures based on tridimensional modules proposed by the Omniversity team.
The VR experience is structured in 2 levels: level 1, where the user will discover the interactive museum of contemporary modular sculptures will listen to the philosophy behind the sculptures, and then will be invited to reconstruct them. Through hand tracking technology, the user can move and assemble each module on a pedestal. For level 2, the user will be encouraged to create their own sculpture and, at the same time, their own interpretation of the infinite, using a multitude of shapes and textures available in the app. The creation can then be shared in a gallery of DIY sculptures, alongside other sculptures imagined by the players.
The project is designed for the Oculus Quest II headset, which allows for MR exploration. All those who wish to be invited to the exploratory test sessions can register on the website until November 15th, 2022: https://infinituri.co/. A first demo of the interactive project will be showcased at the University of Architecture, the MAC laboratory, on the 20th of November 2022. More details about the events related to the project can be followed on the official Facebook or Instagram pages.