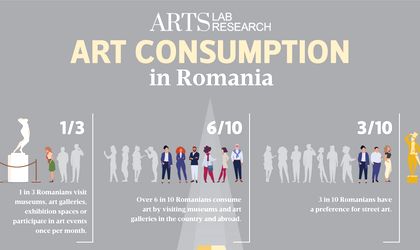 Romanians like art, and 90% of them believe that you do not have to have specialized knowledge to enjoy museums and exhibitions, according to a national survey led by international research company for arts and culture Arts Lab Research, on a sample of 482 respondents from our country. 30% of the participants in the study stated that they visit art exhibitions or participate in art related activities with a  frequency of once a month.
The top most beautiful museums in the country and abroad, voted by Romanians
For 64% of the survey participants, visiting museums and art galleries in the country and abroad is the preferred way to consume art. About 30% are less traditionalist, preferring the events dedicated to street art, more and more popular in our country. Also, 6% of Romanians participate in art classes.
All the study participants stated that they visit museums, art galleries, exhibition spaces or participate in art events at least once a year. Almost half of them dedicate themselves to these activities at least 5 times a year and one in three respondents, once a month.
The National Museum of Art of Romania was voted as the most beautiful museum in Romania (29.4%), followed in the ranking by the National Museum of Contemporary Art in Bucharest (17.6%), the Astra Museum in Sibiu (17.6%) and the "Dimitrie Gusti" National Village Museum in Bucharest (11.8%). On the other hand, the Hermitage Museum in St. Petersburg was voted by Romanians as the most beautiful museum abroad (31.3%), followed by the Louvre Museum (25%), MoMA, New York (12.5%) and the Sistine Chapel in Vatican (12.5%).
The art that uses new technology, preferred by a quarter of respondents
Painting is the favorite artistic expression of Romanians. Over half of the participants in the study (52.9%) claim to be fans of painting, followed in the ranking by new media art (contemporary art that uses new technologies such as augmented reality and virtual reality – 23.5%), art installations (11.8% ), art performance (5.9%), graphic art (5.9%). A few number of respondents chose sculpture. Between classical art and contemporary art, preferences are evenly divided: almost 30% of Romanians have a higher affinity for classical art, as does the percentage of those who prefer contemporary art, while the remaining 40% prefer, to the same extent, both classical and contemporary arts.
Those who chose classical art motivate their decisions by the fact that it better suits their personalities (80% of participants), while the remaining 20% ​​prefer it because it is easier to understand. On the other hand, respondents which claimed that they prefer contemporary art mentioned that it best suits their personalities (66.7%), that they enjoy discovering, supporting new artists, as well developing relationships with them (22.2%), while 11.1% of them consider that contemporary art represents best the current reality, as it is art of the present.
Constantin Brâncuși and Nicolae Tonitza, the most popular Romanian artists
88,2% of Romanians consider that the most famous Romanian artist of all times is Constantin Brâncuși, "the father of modern sculpture" and the pioneer of modernism in the practice of sculpture, painting and photography. Brâncuși is followed in the ranking by Nicolae Tonitza (chosen by 11,8% of respondents), painter, journalist and art critic, representative of Impressionism and Expressionism.
"According to our study, art is a way to spend time in Romania, with almost all respondents declaring that they visit museums at least once a year, and one in three consuming art every month. Romanians are, therefore, passionate and open to discovering new media. They also have a democratic vision, in terms of styles, as their preferences are directed in a balanced way towards classical and contemporary art forms, and the appetite for works involving AR, VR technologies, installations or art performance is growing.

An extremely interesting aspect is the fact that people consider art is for everyone and that it is not exclusively dedicated to connoisseurs, although the local offer is limited, given that most of the famous local museums are in the country's Capital. However, Romanians are open to expand their areas of ​​interest, paying attention to cultural tourism and visiting renowned museums in Russia, Europe and the United States.", declared Art Labs Research representatives.
The Art Labs Research study was conducted on a sample of 482 Romanian participants, women and men aged between 25 and 64, representative of the Romanian Internet users population, in urban and rural areas, with a margin of error of 4.38%. The study reflects the behavior of the participants over the previous year.