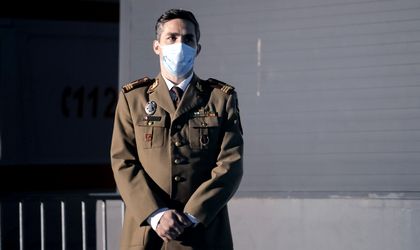 10 people to watch in 2021
2020 marked a significant milestone for the global business environment and humanity at large. It was one of the most challenging periods in recent history and it forced managers to adapt quickly in order to keep their businesses afloat. Many of them had a double and crucial mission: keeping their companies steady and taking care of their teams while trying to strike the right balance. Business Review sat down with leaders of some of the most dynamic industries in Romania and found out how they've managed to succeed in getting through the pandemic and what their plans are for this year. Read on to learn all about the leaders you should watch in 2021!
Appointed as the coordinator of the national vaccination campaign, Valeriu Gheorghita has a huge responsibility on his shoulders: turning the vaccination effort into a success so that Romania may restart its economic engines and begin its recovery process.
By Anda Sebesi
In the second half of November last year, Romanian President Klaus Iohannis announced that physician lieutenant colonel Valeriu Gheorghita, a doctor from the Carol Davila Military Hospital, would be appointed as the coordinator of the national coronavirus vaccination campaign in Romania.
Aged 38, Gheorghita graduated from the University of Medicine and Pharmacy in Targu Mures back in 2006 and became a doctor in medical sciences in 2013. Since 2012 he has been working at the Carol Davila Military Hospital, where he started as an infectious diseases specialist and then became a primary physician. He is also in charge of the antibiotic usage policy within the Military Hospital, and since 2016, he has been a junior lecturer. "The vaccination campaign must be a success and, in my opinion, it is a matter of national security," the Romanian president said as he announced Gheorghita's appointment. With that in mind, it is obvious why Valeriu Gheorghita is on Business Review's list of ten people to watch in 2021. In fact, the relaunch of the local economy is highly dependent on the success of the vaccination campaign. From this point of view, Gheorghita plays a crucial role in how soon the country's economic engines can regain full speed.
The vaccination campaign is split into three distinct stages and the population has access to an online platform where they can make an appointment to get vaccinated. "It is likely that this platform will also be used for other vaccines in the future, not just for the campaign against the coronavirus. For example, in Germany, such a platform is used in all national vaccination campaigns," Valeriu Gheorghita stated earlier this year.
In January, he told journalists at TV network Digi24 that the number of individuals registering for the coronavirus vaccine was on a significant upward trend, which means that the vaccination campaign has been a success in Romania so far. In the first month of 2021, Romania was among the European countries with the best vaccine coverage rates. "We are happy to see that Romanians are eager to get the vaccine. We need to keep a balance between the number of appointments and the available doses, in order to be able to guarantee second doses as well as vaccinate new individuals," said Gheorghita for Digi24. He added that the local authorities aimed to ensure continuity in vaccinations in order for Romania to get through a difficult February, when the number of doses will be lower due to supply issues. "This situation is not particular to Romania; it is a challenge all European countries are facing."
Although there has been huge hope for a return to normal since US and German pharmaceutical firms Pfizer and BioNTech announced that they had developed a coronavirus vaccine which was more than 90 percent effective in preventing severe cases of COVID-19, the fight against the virus is far from being won. "Mass vaccination will take a significant amount of time, and that means that the economic outlook for 2021 will continue to be bumpy for a long time until finally these sorts of benign effects of the vaccine will become fully available," Klaas Knot, a European Central Bank Governing Council member, told CNBC soon after the launch of the first vaccine was announced.
As International Banker magazine points out, not everyone will receive a vaccines immediately after rollout begins. At this stage, there are nowhere near enough doses for the world's 7.8 billion people, and there likely won't be enough for some time. With that in mind, a lot of work needs to be done to ensure that the world can successfully move into a post-COVID-19 era with the global economy once again operating at full capacity. "Going forward, I'm not pessimistic. I mean, we'll eventually get through this. But we should not be under the illusion that it will happen fast; it will take some time," Axel Weber, chairman of UBS AG's board of directors, told CNBC in November.