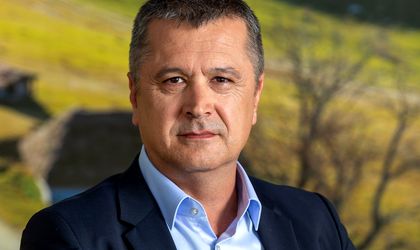 Keeping communication infrastructures running smoothly was one of the most challenging operations of 2020. Romania did very well in this sense, as the huge number of people working from home encountered no issues with their data usage or voice calls. One major external acknowledgement of this fact was the CTO of the Year 2020 award, the Gamechanger category, given out by Mobile Europe & European Communications to Catalin Buliga, CTO at Vodafone Romania.
By Aurel Constantin
"Last year was a huge test not only for the resilience of networks, but of our human resilience as well. It was a year that taught us an important lesson in solidarity. From governments to companies and individuals, everybody contributed to a common cause, financially or otherwise, and I think this will continue in 2021," says Catalin Buliga. The importance of the communications infrastructure was better understood last year as well. Businesses, people working from home, students – they all became more aware of their reliance on this infrastructure," he adds.
"Another thing that 2020 showed us as a company was that we could do things differently, and that we could do things we never would have thought possible. We engaged in a lot of experimentation, and many of the results will stay with us in the long term. For example, we set up a communication network for a hospital in just 8 hours, even though that normally would have taken us about two weeks," Buliga explains.
The award
"The CTO of the Year 2020 award, the Gamechanger category is very important for my team, for the company and for the Romanian industry as a whole. Vodafone Romania reached the shortlist of European communication companies, all big companies. In 2020, there were two sections in the CTO Awards – I won the Gamechanger title, which recognises the amount of transformation achieved during a certain period of time and the boldness of that transformation. Getting this kind of award is a dream come true for any CTO," Catalin Buliga says.The award was a first for Romania, but it did not come as a surprise considering Buliga's many outstanding achievements, including the first 5G network in Romania, the first 4K live holograms in the world, NB-IoT technology, as well as investing in and maintaining the quality of fixed and mobile networks at an extraordinary level despite the difficult pandemic context. Catalin's constant efforts to innovate and support the digital Romanian society have now been recognised and certified by this title as well. "Vodafone Romania was the second operator in Europe to launch 5G," says Buliga.
Pandemic-driven change
"Connecting a new site usually would have taken us about two weeks. But when the pandemic started, the Army would set up campaign hospitals within 24 hours, and although it seemed like an impossible task, we managed to connect these new sites in just 8 hours. This was possible because we had the technology, the infrastructure and the applications we needed," Buliga notes. In August and September, everyone at Vodafone worked on connecting schools and preparing them for online education. "We connected 800 schools in a month and a half. I would describe this as necessity-driven innovation," says the Vodafone CTO. For the future, Catalin Buliga expects major changes at Vodafone. "We will create a unified model for all companies in the group. We will also go green in terms of our power usage, as well as in other areas. We will continue to invest in our networks to make sure that people at home get top quality services. Investments will also be made in our fixed network and in strengthening infrastructure resilience," he concludes.